This year's annual AFT Massachusetts convention felt like a celebration putting the long, painful COVID-19 pandemic behind us. We didn't meet virtually, or have to wear masks. Instead, we kicked off the convention weekend with our awards dinner at a new location, the incredible Edward M Kennedy Institute at Columbia Point in Dorchester.
The Friday night dinner before the convention traditionally has many of our members' families in attendance. The children of our fellow AFT Massachusetts members received over $13,000 in scholarships from AFT Massachusetts this year, and several of them were able to join their parents at the soiree, 2023 Scholarship Winners.
The highlight of the evening, of course is the Distinguished Service Award Winners. This year's recipients embody the best of educators, school support staff and librarians in the Commonwealth. From the South Shore to Springfield, Pre-K to higher ed, we are all proud to serve alongside these outstanding AFT Massachusetts members.
Congratulations to our locals celebrating anniversaries with the AFT!
Lawrence Teachers Union AFT Local 1019 - 75 years
Norfolk County Agricultural High School Federation of Teachers AFT Local 2335 - 50 years
New Bedford Federation of Paraprofessionals AFT Local 2378 - 50 years
Wentworth Faculty Federation AFT Local 2403 - 50 years
Saturday's main event was again held at the IBEW 103 hall in Dorchester, with over 150 registered delegates in attendance. This year's theme was "Moving Forward Together," as we have several important campaigns ahead of us: fully implementing the Student Opportunity Act; ending the failed state takeover/receivership system; fully funding all of our public schools; winning living wages for paraprofessionals and school-related personnel; delivering affordable, high-quality public higher ed for all; and providing fair and affordable public retiree benefits.
In her annual address to the delegates, AFT Massachusetts president Beth Kontos emphasized our union's enhanced organizing capabilities. "Our organizing department is hard at work supporting locals across the state with contract campaigns, electoral and budget advocacy, and more," she said. "AFT locals in Springfield, Lawrence, Lynn, Chelmsford, and at Berklee College of Music all won strong contracts this year thanks to their increased member engagement, well-planned contract actions, and the support of our full-time AFT MA organizing department."
Beth also briefed the delegates on her work as a member of Governor Maura Healy's transition team. This was an important opportunity to share AFT Massachusetts' recommendations for education policy, board assignments, and budget priorities. The chance to discuss our shared priorities at the senior policymaking level, from improving mental health and wraparound services for students to raising pay for educators, was particularly valuable.
"The new administration's approach to education can be seen in their budget proposal for the 2023-2024 fiscal year, which would make significant new investments in education from birth through college, including continuing the full funding of the Student Opportunity Act for another year," Beth added.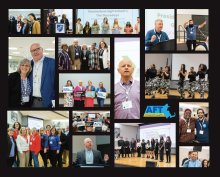 AFT Massachusetts Secretary Treasurer Brant Duncan also spoke to the delegates about the work ahead for the union. "We're proud to be part of the Raise Up Massachusetts coalition that won the Fair Share Amendment and continues to fight to protect the state revenue that is necessary for continued investment in our students and schools," Duncan said. "Raise Up Massachusetts is also organizing to again raise the state's minimum wage and ensure that municipal and school employees are covered by its protections."
"We're also very excited about our work with other members of the Massachusetts Education Justice Alliance to pass the Thrive Act and finally replace the failed state takeover/receivership system with a better system that truly supports high-need schools," he said. "And we're working with the Higher Ed for All campaign advocating for fully funded, fully affordable community colleges, state universities and UMass campuses."
The keynote speaker of the convention was AFT national president Randi Weingarten, who this year traveled to Boston after a bruising week in Washington where she was the main target of congressional Republicans at a Capitol Hill hearing. The hearing was followed by a weekend New York Times story with the absurd headline "The Most Dangerous Person in the World is Randi Weingarten."
Randi's message to the delegates was simple. While educators are working every day to pull our schools out of the morass left behind by the pandemic, our opponents are running a highly coordinated  campaign to destroy public education and eliminate teachers unions. Even in Massachusetts, we need to stay vigilant.
Lastly, we want to give special thanks to the students from the Lynn Classical High School Concert Choir, Southeastern Regional Southeastern Regional Vocational Technical School's S.E.T. Step Team, and The Thursdays - Chelmsford High School's Co-Ed A Cappella Group. And a shout out to the members of UNITE HERE Local 26 who served the delegates lunch and the IATSE Local 11 members who kept our audio and video running flawlessly.