Betsy DeVos has resigned as Secretary of Education, and under the incoming Biden administration, federal education policy will be led by an educator and public school graduate, Connecticut state education commissioner Miguel Cardona. For the first time in four years, public school educators will have a partner in Washington. But the right-wing effort to dismantle public education in the United States isn't going away without a fight. And we can't win that fight without understanding how and why it began.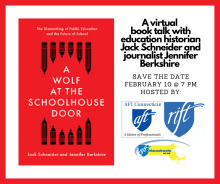 On February 10 at 7:00 p.m. via Zoom, join AFT members and allies for a webinar to learn about the origins of the war on public education, reflect on the last four years of fighting against the Trump-Devos agenda, and strategize about how to influence public education as a public good moving forward.
The webinar will include a virtual book talk with education historian Jack Schneider and journalist Jennifer Berkshire, authors of A Wolf at the Schoolhouse Door. Their new book traces the war on public education to its origins, offering the deep backstory necessary to understand the threat presently posed to America's schools. The book also looks forward to imagine how current policy efforts will reshape the educational landscape and remake America's future. A Wolf at the Schoolhouse Door offers readers a lively, accessible, yet scholarly view of a decades-long conservative cause: unmaking the system that serves over 90% of students in the United States.
During the webinar, Neema Avashia from the Boston Teachers Union will facilitate a conversation with the authors and Beth Kontos, president of AFT Massachusetts; Jan Hochadel, president of AFT Connecticut; and Frank Flynn, president of AFT Rhode Island. 
Click here to register!