The UMass Faculty Federation, Local 1895, American Federation of Teachers, AFL-CIO, celebrated educators who worked tirelessly to help prepare the minds of tomorrow's leaders. Dr. Hua (Julia) Fang, Professor Meghan Fair and Deidre Healy were all honored in December 2022 during the federation's annual award celebration. AFT Massachusetts wants to highlight these educators and celebrate their accomplishments as well. UMass Faculty Federation President Grant O'Rielly had high praise for the educators and support staff who were honored at the annual event and said that the entirety of those who fill the classrooms and support the students at UMass Dartmouth deserve recognition as well.
"We are immeasurably proud and grateful to these committed and hardworking individuals who have gone above and beyond to ensure that the students who sit in our classrooms emerge with the best education possible," he said. "We are also grateful to those who secure the resources and support that allows these educators to accomplish this mission. The importance of unions is our ability to work together and ensure that we as educators and support staff are taken care of so that we can take care of our students."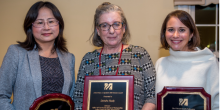 Dr. Hua (Julia) Fang
Dr. Fang was honored with the 2022 Scholar of the Year Award, which recognizes a substantive body of work, as well as exemplary scholarly or artistic achievement by an individual in their discipline. Dr. Fang joined the Department of Computer and Information Science at UMassD in 2017, and breakthroughs in her scholarly work inspired former 2010 Scholar of the Year recipient Dr. Liudong Xing, and the other members of her department, to nominate her for the award. 
"Since she joined UMassD in 2017, Dr. Fang has been making remarkable breakthroughs in her scholarly work," Xing said. "For her extraordinary research accomplishments and research impact on UMassD community and programs, UMass System, Southcoast and New England regions, U.S. and International research  community as well as her outstanding student research mentoring, we enthusiastically nominate Dr. Fang  for the 2022 Scholar of the Year Award."
Highlights of Dr. Fang's accomplishments included her research being featured in numerous publications across various campuses and local media. Dr. Fang submitted a patent and invention entitled "System and methods for trajectory pattern recognition", issued on June 1st, 2021, by the United States Patent  and Trademark Office, Department of Commerce.
Dr. Fang was initially awarded a National Institutes of Health (NIH) grant of  $452,178 in 2019. Built upon this ongoing VIP project and her patent as well as her first NIH R01, Dr. Fang was newly awarded her second NIH R01 research grant award of $2,735,127 in her career. This is a first-ever NIH R01 grant in UMassD history. The combined NIH grants total $3.1M and are also the first of their kind awards at UMass 5-campus as well as the first in the U.S. that focus on longitudinal dietary data harmonization from both local and national randomized controlled trials (RCT).
Dr. Fang secured 15 grant awards within these four years since her hire at UMassD with a total award amount of $3,737,592, and $673,110 supporting UMassD students. As of October 1, 2021, she has 97 peer-reviewed publications published or accepted, including 1 book, 3 book chapters, 58 Journal Articles, and 35 conference papers, with an h index of 25 and 2177 citations according to the Google Scholar. Among them, 48 publications were  published or accepted within 4 years after Dr. Fang moved to UMassD, of which 39 manuscripts from herself and her advised UMassD students.
While being active in the American Statistical Association (ASA) over 15 years, Dr. Fang is an IEEE Senior Member and invited on the IEEE Standard Association Healthcare Life Science Practice Program Advisory Group that focuses on standards development of applications of breakthrough technologies, e.g., Artificial Intelligence and Machine Learning.
Dr. Fang's multidisciplinary research background and impact also attracts a variety of students into her classes from several departments across three colleges, COE, CAS and CVPA at UMassD. Within these years at UMassD, Dr. Fang directly supervised or has been supervising a total of 31 undergraduate and graduate students: 20 master project/thesis students; 4 RA undergraduates and 7 PhD students supported on her extramural grants.
Assistant Teaching Professor Meghan M. Fair
Assistant Teaching Professor Meghan M. Fair was honored with the Leo M. Sullivan Teacher of the Year Award. Established in 1971, the "Teacher of the Year" Award is a memorial to the late Leo M. Sullivan, founder of and former professor and chairperson of the UMassD's Department of Psychology. It recognizes an educator who has demonstrated a particular dedication to students through exceptional teaching and advising. Colleague Dr. Eli Evans said he nominated Fair for her exhaustive efforts to engage and support their students.
"I have taught alongside Meghan for seven years, witnessing her unparalleled pursuit of student engagement, student wellbeing, and collegiality," Evans wrote in his nomination letter. "She is spirited, ambitious, and caring and I can attest that her students share my sentiments. Meghan embraces her role as teacher/advisor/colleague with grace and grit and a tireless spirit. As first year English (FYE) instructors, we stand on the front lines, encountering nearly every new student—both eager and scared. Meghan's mission is as much to instruct as it is to mentor her students, and because she performs this important work with remarkable capacity, talent, and vision, it is my privilege to nominate her."
Evans said Fair's courses are able to "creatively contextualize learning within the real world through rigorous analysis of contemporary topics, such as migration literature." Her courses are "exemplarily organized, featuring user-friendly weekly modules that visually organize tasks and resources relative to learning objectives, evidenced by her two OFD presentations on e-learning." Evans said that she is also able to help students discover who they are as learners. 
Fair has piloted sections within her department, for which she received recognition in 2018 through the Provost's Award for Teaching and Learning with Technology. She has facilitate three professional learning communities, resulting in her department's new peer-to-peer observation schema, emphasizing formative feedback. 
"Meghan is a dedicated resource, meeting with nearly all 100+ students and fifteen-plus advisees each semester," Evans said. She is the newly-appointed Co-Director of CAS Transition Courses; Participated in the CAS MAP 2020 student outreach program; Piloted engaged learning in CAS 103 with the Leduc Center, leading to student volunteers at Arnie's Cupboard, America Reads, and others. 
Her extracurricular work was also noted for adding to the quality of undergraduate culture at the university. She has developed and managed the UMassD Believes first-year writing project since 2016. In addition she has presented on the psychology of happiness alongside Professor Jennifer Mulnix in 2019 for the Leduc Center. 
Deirdre Healy
Deidre Healy was the winner of the Bruce A. Sparfven ESU Service Award, awarded to educational service unit members who have demonstrated service for the ESU, as well as service to the university. Brian Sullivan, who offered his nomination for Healy, said she had been an avid supporter of the university and union since her first day on campus. 
"Deirdre has been a grassroots supporter of the union since her first day on campus. She has served as an Area Rep for the Liberal Arts Building as well as in the most recent Negotiations Committee. She also serves as a member of the new Justice, Equity, Diversity, Inclusion and Belonging Committee (JEDI-B). She is a welcoming voice to new members who have questions about the union and a strong supporter of more seasoned members across the campus. 
Deirdre's work as the Director of Community Service and Partnerships touches the lives of so many students who choose to come to UMass Dartmouth. Her mentoring of students in engaging in community service has had an extraordinary impact in the communities and the organizations served by the LeDuc Center. Her role brings the face of our university to the many communities that are served and provide vital services so that organizations can thrive in their respective missions."