Members of the five unions at UMass Dartmouth, including two AFT Massachusetts affiliates, are organizing together to avoid harmful budget cuts and protect health and safety on campus.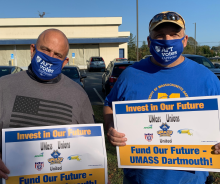 When the pandemic hit this spring, the UMass Dartmouth Faculty Federation, Local 1895, which represents faculty, professional staff, part-time lecturers, and research assistants and associates, and the UMass Maintainers, Local 6350, which represents maintenance and trades staff, joined with campus members of the American Federation of State, County and Municipal Employees (AFSCME) to ensure that health and safety measures were in place. The unions established a labor management health and safety committee with new Chancellor Mark Preble, and the two sides were able to successfully bargain major safety protections.
"Here at the UMass Dartmouth campus all five unions on campus have diligently worked on health and safety for the better part of 8 months," says Nick Gula, a member activist with the UMass Maintainers. "In that time, with the help of our AFT field representative Mike Regan, we have successfully negotiated all the health and safety concerns that we had, like testing, signage and HVAC just to name a few."
After immediate safety concerns were addressed, the unions continued working together to avoid layoffs due to the campus budget deficit created by the pandemic. Members engaged in collective action including standouts, petitions and legislative meetings, and reached an agreement that avoided layoffs by implementing furloughs and pay reductions while allowing workers to access enhanced federal unemployment benefits.
"Working together is our strength," says Dr. Grant O'Rielly, President of the UMass Dartmouth Faculty Federation. "The UMass Dartmouth unions have accomplished so much by working together on health & safety issues, the salary giveback to protect jobs across the campus, and outreach to local legislators asking that the UMASS President's Office use the system contingency funds to support the faculty, staff and students working and learning together."
Union members continue to advocate for the UMass system to tap into the system's stabilization fund, which contains more than $114 million designated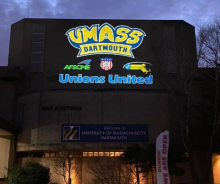 to "provide budgetary stabilization for operations due to unforeseen and/or uncontrollable circumstances to ensure responsible long-term financial stability." Members say the COVID-19 emergency is exactly the situation the stabilization fund was meant to address.
"Privatization of maintenance services, attrition of staff, and the UMass trustees' unwillingness to use the 100 plus million dollars in reserve; these things underscore the lack of appreciation many members feel," says Saul Friedman, Vice President of the UMass Maintainers. "UMass President Marty Meehan is out of touch and needs to release some of the reserves to save jobs."
The unions have launched a petition calling on UMass President Marty Meehan and UMass Board of Trustees Chairman Robert Manning to commit to not cutting programs, people, or services, and members of the contingent English faculty wrote an an open letter to the Legislature that was published in Commonwealth Magazine. Members of the unions say they'll continue organizing and advocating in the coming months.
"We have been meeting regularly with legislators to fund higher education now and into the future," says Gula. "To date we have met with 37 out of 47 local State Representatives and State Senators and wrote a letter with conjunction with State Sen. Mark Montigny's office to be sent to the Board of Trustees' office and the President's office."
"We have accomplished a lot but there is more to do," says Dr. O'Rielly. "We need to build on our successes and work towards increased funding for public higher education, to tie that funding so that it invested in the educational mission of UMASS, address the student debt crisis, and to ensure that the state colleges and university continue to contribute to their local communities and remain places where the people of Massachusetts can get a high quality, affordable education."