AFT Massachusetts is excited to welcome two great new members to our statewide Executive Board! This month, Kim Wilson of the UMass Dartmouth Faculty Federation and Colleen LiPorto of the Lynn Teachers Union joined the board, which represents the 23,000 AFT members statewide.
"I'm excited to welcome these two passionate and experienced local union leaders to the AFT Massachusetts Executive Board as we work to help our students recover from the effects of the pandemic, tackle the growing workforce crisis in our public education system, and organize to win more resources for public education from preK through college," said AFT Massachusetts President Beth Kontos. "Their experience, both in the classroom and as active union members, is critically important as we work to engage all of our members and organize together to protect public education."
Learn more about the new Executive Board members below:
Kim Wilson (second from the right)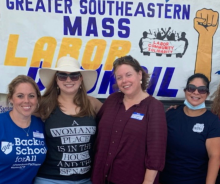 Kim Wilson has spent the last 25 years as a professional labor educator. After several years working as a union organizer and union rep for the UAW and SEIU, and receiving a Masters in Labor Studies from UMass Amherst, in 1997 Kim joined the Arnold M. Dubin Labor Education Center at UMass Dartmouth. Serving as a Labor Extension Coordinator, she taught courses and developed conferences for union members and undergraduate students related to organizing strategy, research, leadership development, labor history, and skill building for workers.
For the last seven years, she's served as director of the Labor Education Center, where she is responsible for the Center's educational programs, including a workplace literacy education project held for workers who are learning English. She also does work with undergraduate students, including helping to match them with unions for internships. As a board member for the Women's Institute for Leadership Development (WILD), she works to provide education, training and for women in unions and community organizations in Massachusetts.
At UMass Dartmouth, Kim is a Delegate for the UMass Dartmouth Faculty Federation – Educational Services Unit, and is an elected representative of the Faculty Federation to the Southeastern Mass Central Labor Council. In her words, "I'm excited to continue my work on the member engagement statewide committee to fight for full union membership and ensure that vacant union positions are being filled on my campus. I'm also looking forward to working on the board to get out the word about issues of higher education, including debt forgiveness and funding."
Kim, who lives in New Bedford, is a passionate birder and vice president of her local Paskamansett Bird Club of SE Mass.
Colleen McElligott-Liporto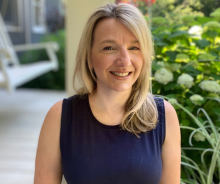 Colleen McElligott-Liporto just completed her 24th year of teaching in the Lynn Public Schools. As a 19-year-old college student studying business administration with a concentration in marketing, she started substitute teaching during college breaks, and when it came to graduation, she realized she loved teaching. She decided to go to graduate school for teaching and started teaching immediately. Over the years, Colleen has taught preK, 3rd grade, 4th grade, and 6th grade, and currently serves as a reading specialist. After teaching at 8 different schools in Lynn, she's been at Lincoln-Thomson Elementary School in Lynn for the last 14 years.
Around her third year of teaching, Colleen came to realize that things weren't going right at her school, and started attending union meetings. Years later she ran to become a building representative, and then to be corresponding secretary for the Lynn Teachers Union. She's served as first vice president of the Lynn Teachers Union for the past 12 years, through 2 different presidents.
During her years in the classroom, Colleen earned 3 master's degrees in education, and is raising her two children, ages 8 and 13. In her words, "I wanted to be more involved in the union. Now that my children are a little older and more independent, I want to take on a bigger role. I'm still in the classroom and I'm excited to bring that perspective to our discussions."
Colleen, who grew up in Lynn and lives in Merrimac, is part of an avid ski family. "Any day we're not working we're skiing," she says.
Welcome Kim and Colleen to the AFT Massachusetts Executive Board!