Nearly 400 Graduate Student Employees Join UMassD Maintainers, AFT Local 6350
After a successful union vote this spring, 389 UMass Dartmouth graduate student workers became members of AFT Local 6350.
 
During an election held on April 27, 98% of participating graduate student workers cast ballots in favor of the union, which will represent teaching and research assistants, doctoral and art fellows, clinical and studio assistants, and more whose work helps UMass Dartmouth function every day.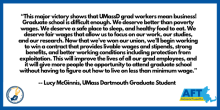 "This major victory shows that UMassD grad workers mean business! Graduate school is difficult enough. We deserve better than poverty wages. We deserve a safe place to sleep, and healthy food to eat. We deserve fair wages that allow us to focus on our work, our studies, and our research. Now that we've won our union, we'll begin working to win a contract that provides livable wages and stipends, strong benefits, and better working conditions including protection from exploitation. This will improve the lives of all our grad employees, and it will give more people the opportunity to attend graduate school without having to figure out how to live on less than minimum wage." – Lucy McGinnis, co-founder and graduate student.
  
UMass Dartmouth graduate student workers are now the second unit of the American Federation of Teachers (AFT) Local 6350, currently the UMassD Maintainers representing maintenance and trades staff at UMass Dartmouth. The chapter is affiliated with AFT Massachusetts, a statewide union that represents more than 23,000 higher education faculty and staff, public school employees, and public librarians. Nationally, the 1.7 million-member AFT is the largest U.S. higher education union and represents more than 34,000 graduate student employees around the country.
 
The UMassD Maintainers have won stronger wages, benefits, and working conditions for their members, including campus-wide health and safety protections during the COVID-19 pandemic that benefited our entire community. They've also engaged in advocacy at the state level to increase public funding for UMass Dartmouth to support campus operations, improve the state of campus buildings, and make the cost of college more affordable for students. 
 
"We work alongside graduate student employees at UMass Dartmouth every day, and we see how hard they work to teach students and perform research," said Nick Gula,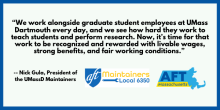 President of the UMassD Maintainers. "Now, it's time for that work to be recognized and rewarded with livable wages, strong benefits, and fair working conditions."
 
"This win means a stronger voice for graduate student workers at UMass Dartmouth, who deserve livable wages, benefits that can support a family, and protections from harassment, discrimination, and unfair treatment at work," said Beth Kontos, President of AFT Massachusetts. "As they work to negotiate a contract that delivers those benefits, they will have the full backing of the 23,000 members of AFT Massachusetts."
"I'm so very proud of our grad students workers, who were brave enough to show up on Election Day and cast their ballot in favor of unionizing. Though we knew we were legally protected and the process was completely anonymous, it still felt like risking our education and future careers to vote for a better quality of life now. This election result is clear evidence that students' desperation was even stronger than their fear, which is heartbreaking. So many graduate students have been in a living nightmare for years, and hundreds of graduate students actually do drop out of school every semester. It is finally time to change that. It's finally time to make the university a better place for everybody to work, learn, and live." -- AJ Vincelli, co-founder and graduate student.
 
In the next step of the unionization process, a governance structure and bargaining committee of graduate student employees will be established, and then proceed to negotiate with UMassD administrators and write a union contract: a legally binding agreement also known as a "collective bargaining agreement" that covers wages, stipends, employee benefits, and working conditions. Once an agreement is reached with the university, a democratic vote of graduate student employees will be required to ratify the proposed contract. Once ratified, the contract will take effect and cover all UMassD graduate student employees.
 
For more information, visit www.UMassDGradStudents.org.