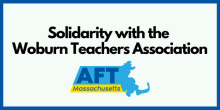 The union educators of the Woburn Teachers Association are acting to secure:
● A living wage for education support professionals;
● Smaller class sizes to support the educational needs of all students;
● Physical education classes twice a week for elementary students, which is comparable to surrounding school districts;
● Fair and professional compensation for all workdays; and
● Dignity and respect in the workplace.
 
The families of Woburn have a right to expect the education and learning needs of their children will be addressed in the public schools. The committed educators of the Woburn Teachers Association are fighting for their students by demanding progress at the bargaining table on essential classroom issues.
 
AFT Massachusetts stands in support of the Woburn educators receiving fair contracts and calls on school administrators to immediately negotiate contracts that are good for students and fair to teachers.