Reading is a foundational skill necessary for virtually everything we do. It opens possibilities for all children to succeed—to learn and grow, to explore and imagine, to investigate and verify, and to lead fulfilling lives. That's why one of the focuses of the multiyear AFT literacy campaign, Reading Opens the World, is giving children and young people free books to read, love, and keep.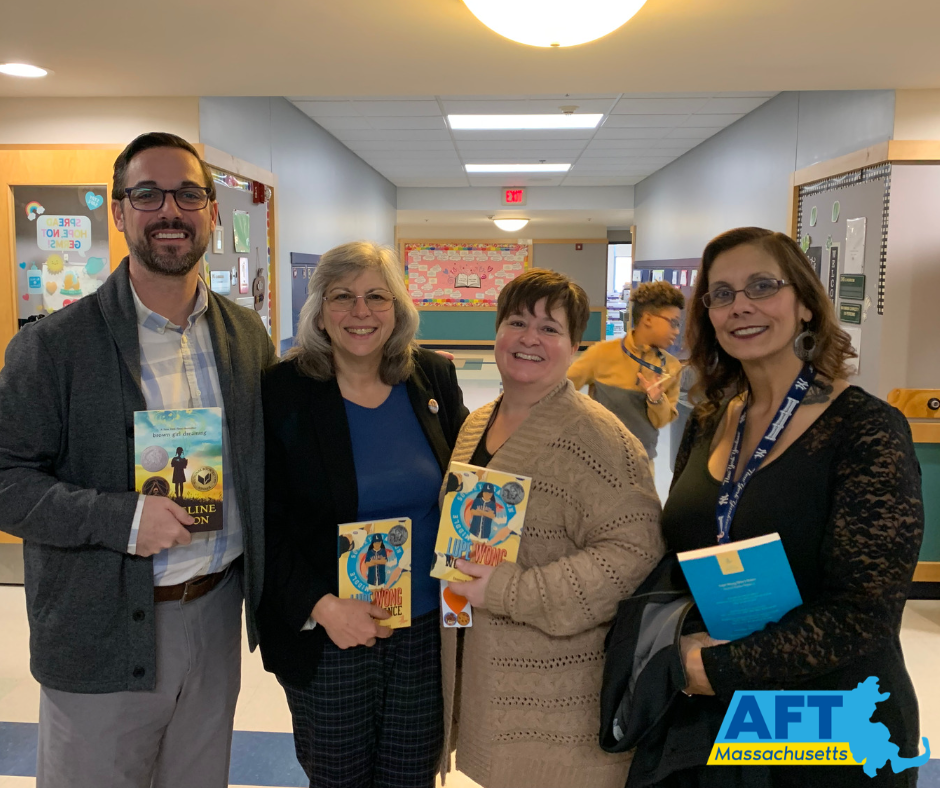 AFT Massachusetts President, Beth Kontos, visited the Silvia Elementary School with Secretary Treasurer Brant Duncan and Fall River Federation of Paraprofessionals' leaders, Stacey Alves and Kim Luz, as part of this program. "We know that access to books can be a watershed moment for a student, as well as their family, " said Alves. Luz agreed, adding, "We know kids love to read and we are here to nurture and empower students to keep that passion alive." 
'The union leaders read to the 4th graders and gave copies of the Pura Belpré Award Winning book, Lupe Wong Won't Dance, to each of them. In all, they distributed 500 books to the students! "This is the best part of my job," said Kontos. "This is the heart of our union and showcases the value our members bring to families and students everyday."
AFT Massachusetts is proud to participate in this program because reading well instills confidence and helps reduce inequities. When the Reading Opens the World initiative launched in December 2021, AFT President Randi Weingarten said, "Instead of seeing educators dig into their own pockets for supplies… we are finding ways to get books into those classrooms for free. We are finding ways to get teachers the tools they need… we're bringing everyone together to experience the joy of reading." From the looks on the students at Silvia Elementary School faces, you can bet we're doing just that.