Paraprofessionals represented by the Peabody Federation of Teachers have reached a tentative contract agreement with the Peabody School Committee, calling for increased compensation, additional training, and more access to technology in the classroom.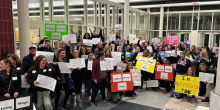 Critically, the parties have agreed to a pathway for all full-time paraprofessionals to earn an annual wage of no less than $25,000 per year.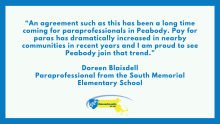 "An agreement such as this has been a long time coming for paraprofessionals in Peabody," said Doreen Blaisdell, a Paraprofessional from the South Memorial Elementary School. "Pay for paras has dramatically increased in nearby communities in recent years and I am proud to see Peabody join that trend."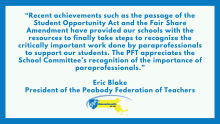 "Recent achievements such as the passage of the Student Opportunity Act and the Fair Share Amendment have provided our schools with the resources to finally take steps to recognize the critically important work done by paraprofessionals to support our students," said Eric Blake, President of the Peabody Federation of Teachers. "The PFT appreciates the School Committee's recognition of the importance of paraprofessionals."
"Paraprofessionals play an important role in our schools," said Peabody Mayor Ted Bettencourt, who serves as Chairman of the Peabody School Committee. "We feel that this agreement is fair to paraprofessionals and demonstrates how much we value the work they do."
"Paraprofessionals provide much needed support to our students, staff and families," said Peabody Public Schools Superintendent Dr. Josh Vadala. "I appreciate that we were able to work collaboratively to reach a fair and equitable agreement that values our paraprofessionals and recognizes their professionalism."
A planned rally at the Peabody School Committee meeting on Tuesday evening has been cancelled. Votes by the union and the School Committee to ratify the tentative contract agreement will be scheduled in the coming days.
Paraprofessionals assist teachers with classroom instruction, provide individualized support to struggling students and students with disabilities, monitor bus arrival and departure, and help maintain order throughout the school, among a myriad of other critical tasks.