Cathy Mastronardi: "Paraprofessionals are vital to student success."
They say it takes a village to raise a child, and that saying remains true especially today. While teachers and staff are working for the betterment of students across the Commonwealth, others work behind the scenes playing equally valuable roles in providing students with the resources and attention they need to succeed. 
Paraprofessionals provide a critical service to our schools and communities by providing essential assistance in a variety of ways. Certified Nursing Assistants, Licensed Practical Nurses, Certified Occupational Therapy Assistants, Physical Therapy Assistants and Paraeducators, represented by the Springfield Federation of Paraprofessionals (SFoP), are all vital members of our communities that ensure communities across Massachusetts can thrive. We talked with Cathy Mastronardi, President of SFoP about the myriad of ways these critical professionals help students, staff and communities succeed, but are too often overlooked.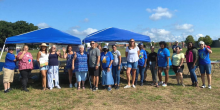 Mastronardi said increased engagement with students was one of her top priorities when she took the helm as president. 
"When I first became president, we were a union, but only in name. I know that it takes all of us to create the union we need. I knew, we all did, that we wanted more engagement with each other and everyone who is in the school community," she said. "After working hard and working together, we're now known for giving away 40,000 books to students and their families and for our annual book giveaways at the Back to School celebrations." Backpacks filled with school supplies and a book for each month of the fall semester of 2019 were given out to every Kindergarten student through a First Book "Books for Kindergarten Joy" grant and Mastronardi said they had a lot of fun during the process. "We care about our community and it shows." 
As we all know, when the pandemic hit, this turned the educators' world upside down. "When the pandemic rolled around and school was eventually canceled, I was left with thousands of books." Paraprofessionals were working at the schools on specific days of the week, or making visits to the homes of students to make sure they had the school supplies they needed. That's when Cathy sprung into action. Cathy loaded up her car and delivered books to schools, to paraprofessionals and families. "I delivered them in my own little car. I would load as many as I could into that car, deliver them and start it all over again."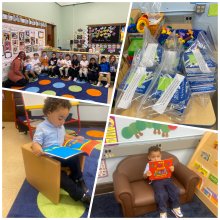 "We were out of school from March 2020 through April 2021," she said. "In 2021 they did not have the back to school celebration, so that's when I heard about the Reading Opens the World Grant." The group received $5,000 through the grant, and Mastronardi used a portion of that for International Women's Day in 2021, with another portion of the money going to the Back to School celebration that was held this year. Other grant money was used to give Pre-K students books to bring home, contribute to book clubs in the high schools and establish culturally diverse lending libraries at a Pre-K and high school. When asked if she feels her books ever go to waste, she responds, "You know, I hear it all the time that kids don't love to read and that is total malarkey. Kids love to read! I don't know where people get this idea that a book we give away would go to waste, because if you give a child a book they will read it. They need the opportunity to have a book in their hands. And I'm here to support the family in making literacy a priority among the whole family." 
With a poverty rate of over 25%, or 1 in every 3.5 people living below the poverty level, Cathy reflects on the importance of making sure not only students feel supported, but their family as well. "Springfield is a high needs district and the families in our district don't always have the spare money for books. That's where I see the role of our union coming in strong. It takes a village to inspire and raise a child. That's why paraprofessionals are life changing. They step up where others can't."
Union Representation means Respect
"When I became president, we were in a low place; we were a union in name only," she said. "What members were saying was not only about pay or benefits–they wanted respect. We were trying to think of different events to change the culture about how paraprofessionals are seen and appreciated. We have pro-para leadership within the district, but it needs to filter into the schools. It needs to be felt by para's." 
During an event held in 2015, Mastronardi said she and the members of her union started to feel seen–truly seen– for their dedication to literacy and that dedication to literacy has remained a hallmark of their union. 
"The Truck of Books event was where para's got really involved. Para's and teachers had to partner and work together. We worked tirelessly to get this event up and running. This was the first time a lot of my folks felt seen and respected," she said. "Physically seen in articles and newspaper reports, even the news. Through perseverance and working together, we were shown respect for the value and impact we bring to students and our schools." 
"Para's have a lot of pride in our quest for literacy. We answer the call when books are requested. The Reading Opens the World grant and all the work we've done with those funds is a gift from the para's to the students. We want to make it clear that the books are from the para's to their students. It also shows us that I'm not the union, you're not the union. It's all of us together that makes the union to make our students and communities lives better."
Mastronardi and other paras don't do this work for a glamorous paycheck, such labors can only be done out of a love for literacy. For her, she said one of her fondest memories as the eldest of six children was the time she got her library card. 
"You had to write your name to get a library card. I was practicing and practicing and I remember being so proud to write my full name and get my library card," she said. "My parents were great at taking us to the library to get books, book clubs in the summer. I love to read to this day, and even enjoy audiobooks." 
But a love of literacy alone won't keep these essential folks moving, support from their communities is also needed. 
"Support the para's at your school. There's a pretty good chance that your student is spending a lot of time with a para," she said. "They're the first and last person they see in their day at school. Treat them with respect. They're working incredibly hard and they spend a lot of time building up their students' self-esteem and sense of self worth. But para's need to feel good about themselves and the work they do too."
This is where the union comes into play, Mastronardi said.
"We want all the para's to be respected for their work and to join the union. Like I said, a union is all of us. Working together is what makes our union strong, allows us to negotiate good wages and benefits and provides the opportunity to do community benefit programs like the ones I mentioned. We need more para's in the classrooms working with our kids." 
When giving away the 40,000 books at the Truck of Books event, she said there were families waiting in line as long as 45 minutes to get their books. Students were spread out under shade trees all over the school lawn reading with their families, together. 
"Everywhere you looked were families sitting on the ground, reading books. That, right there, was the whole point," she said. "We want this to be a family affair–however you define family–we want everyone to have fun, get books and let their imagination and creativity run wild in the pages."