An open letter from AFT Massachusetts President Beth Kontos and New Bedford Federation of Paraprofessionals Jill Zangao
The COVID-19 pandemic has highlighted many essential workers in our society who do important in-person work, often for very low wages. Long before the pandemic, the roughly 250 Paraprofessionals and Lunch Aides in New Bedford's public schools have been doing essential work for poverty wages. With New Bedford set to receive millions of dollars in state and federal education aid this year it's time to give the district's Paraprofessionals and Lunch Aides a much-needed raise that recognizes the difficult work we do daily.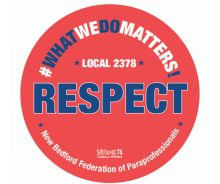 Paraprofessionals, or Paras, provide instructional, behavioral, and other support to students, especially students with special education needs such as physical or developmental disabilities. That work includes everything from helping students with schoolwork to feeding and diapering them. A typical day includes de-escalating behavioral issues, helping students communicate, supporting students with physical disabilities move about the classroom and building daily living skills. Paras are often simultaneously working as educators, caregivers, guidance counselors, and translators – all wrapped up in one job.
This school year, in addition to our regular work with students with high-needs who are learning in-person, Paras are managing the technology for virtual classrooms and keeping in touch with students who are learning from home. In the classroom, Paras ensure that students practice social distancing and wear proper personal protective equipment (PPE) – not an easy task with many high-needs students who don't understand the need for these safety measures.
Lunch Aides have seen their jobs transformed by the pandemic as well. They now are required to run grab and go meal collection sites for students doing remote learning and to send home additional food for families. Some must carry fifty-pound crates up several flights of stairs to deliver meals to students in their classrooms.
Given all the important work that Paras and Lunch Aides do, it might surprise you to learn that a Paraprofessional starting in the New Bedford Public School District makes only $13.64 an hour. They start at $15.28 per hour if they have an Associates degree or higher. Newly hired Lunch Aides start at $11.11 an hour – less than the state's $13.50 minimum wage, which doesn't legally bind municipalities. Over the last decade, Paras at the top steps have roughly received an 80 cent-per-hour wage increase.
These poverty wages have real consequences for our students. Turnover is high, with Paras regularly leaving to work at better paying jobs or working multiple jobs to survive. That means disruption for our students, who need all the stability we can give them. It also means New Bedford is losing out on the experience of skilled professionals who know how to help students reach their full potential.
In our union's current negotiations with the district, we're merely asking for the same reasonable raise that classroom teachers are receiving: a 1.75 percent increase, with a 2 percent increase for the most experienced Paras who have gone years without a significant pay raise. That's far from what Paras and Lunch Aides deserve. Rather than working to raise the wages of the district's lowest paid workers, the school department's lawyer has rejected this bare-minimum proposal. It's clear that the school department can afford this small increase in pay with millions of dollars in new state and federal education aid they will receive in the 2021-2022 school year.
This year has brought widespread recognition and thanks for the work that essential workers do, but kind words don't pay the bills. There's nothing more essential than caring for and supporting our highest-needs kids. It's time for the New Bedford Public Schools to do the right thing, and give us the raise we deserve.