A new three-year contract negotiated by the Boston Teachers Union (BTU) contains provisions that will improve the compensation and working conditions of educators in Boston, including a 2% raise for educators in each of the three years covered by the contract, and increased compensation to promote equity for some of the district's lowest paid educators. These provisions indirectly benefit students by helping the Boston Public Schools attract and retain qualified educators.
But notably, many of the provisions in the contract directly impact students, bringing additional resources into Boston schools to address the varied needs of students.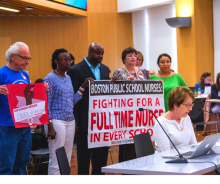 The new contract guarantees a full-time nurse in every Boston Public School, 23 new student-facing licensed mental health providers, additional ESL and special education teachers for inclusion classrooms, and a full-time paraprofessional for all K2 classes city-wide, among other provisions. The contract was ratified by each of the BTU's four bargaining units – teachers, paraprofessionals, substitutes, and applied behavioral analysts – in a vote on June 12.
"The overwhelming approval of this contract demonstrates deep support from members of the Boston Teachers Union for the new resources we have won for students," said BTU President Jessica Tang. "It is symbolic of our continued commitment to fight for the schools our students deserve."
"The BTU's new contract is a great example of the amazing work we can do as educators when we bargain for the common good, winning improvements to our schools that benefit students and educators alike," said AFT Massachusetts President Beth Kontos. "From the Fund Our Future campaign for increased state education funding, to local contract campaigns around the state, AFT members are all in for our students. We're fighting to give them a great education no matter what challenges they face at home."
The BTU's fight to win additional supports for their students didn't start with this contract fight. Members have been organizing for years to win student resources like a nurse in every school.
"When an emergency takes place, it can turn into a crisis without a nurse. It's something we've been fighting for a long time," said Jonathan Haines, a nurse at the McKinley Middle School and a member of the BTU's Nurse Faculty Senate, which helped organize the campaign to win a nurse in every school. "When we started, 44 schools didn't have a full-time nurse. Our previous contract guaranteed a half-time nurse, and we built on that progress, and kept up the momentum."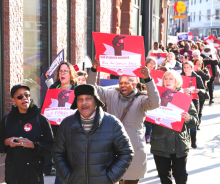 BTU members advocated for a nurse in every school by doing research to demonstrate the benefits to our students, by speaking up at school committee meetings and hearings, and by building strong allies with city councilors, school committee members, and parent and student groups.
"We look at our schools as more than just a building; a school is a community. If you don't have healthcare in your community, that's a problem," said Haines. "We're also dealing with our students' emotional and mental health concerns, especially in schools without a licensed mental health provider. Working in a therapeutic day school, a lot of my students have been exposed to violence. They have a lot of things working against them, and this shouldn't be one of them."
The contract also contains several provisions focused on combating student homelessness and supporting students in poverty, including a $300,000 investment from the City of Boston for additional support of homeless students, and a new citywide Hub Community Schools Coordinator to support expansion of wrap-around services for students.
"Some of our students are dealing with homelessness, poverty, and trauma, and social emotional learning is an important part of the work we do to support them, says Lucinda Mills, a pupil adjustment counselor/social worker and member of the BTU's Social Emotional Learning Committee.  "Having licensed mental health professionals on hand to support students isn't a bonus - it's a fundamental need, especially in high-need districts like Boston. We're going to continue our advocacy until we win the services that our students need."
BTU members say they'll continue to put forward proposals to improve their schools.
"We're also fighting for a licensed mental health counselor in every school. We didn't win that in this contract but we're going to keep fighting for it," said Haines. "There are a lot of other needs we have in our schools, and we're going to continue to put the needs of our students and our communities out front. We're going to continue to fight for justice."