Paraprofessionals in the North Reading public schools rallied on the Town Common, calling for a living wage after decades of working for poverty wages. These workers had planned to speak at the scheduled School Committee meeting which was cancelled. All School Committee members were invited to attend the rally, but none did.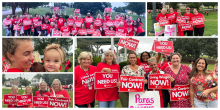 "Paras work hard to support the needs of North Reading students in the classroom every day, and we are members of this community. Some of us are your neighbors, some are your fellow parents, and some are graduates of North Reading schools. But for too long, our basic needs have been short-changed," said Nancy Scioli, a Paraprofessional at the Little School and President of the North Reading Federation of Paraprofessionals. "As paraprofessionals, we should not have to work 2 or 3 jobs to pay our bills and feed our families, as two thirds of us do currently. We choose to work as Paraprofessionals because we love working with children, but we shouldn't have to sacrifice so much to follow our desired career path. It's time to stop under-valuing, under-paying and under-respecting the Paraprofessionals in the North Reading Public Schools!"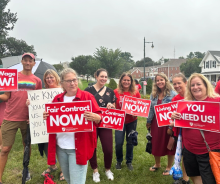 According to MIT's Living Wage Calculator, a single adult in Middlesex County with no children, working full-time, needs to earn more than $48,000/year just to support themselves. A couple with one child, both working full-time, need to each earn nearly $54,000 just to support their family. And for single parents or those with larger families, the number is much higher.
But in North Reading, annual salaries for paraprofessionals, or paras, range from $24,000 to $35,000. As a result, most North Reading paras work more than one job to support themselves, or rely on public assistance programs to get by, or both.
"As a parent of a child with special needs, I consistently see the impact our paraprofessionals have on both his academic success and social well-being," said Marianne Keith, a North Reading parent. "As everyone here knows, families are attracted to North Reading because of the success of our schools. Our schools would not and could not be successful without the tireless work of our paraprofessional support staff, but I worry about them having to work exhausting additional jobs or worse yet, leaving for higher paid jobs. Our paraprofessionals deserve a living wage."
At the rally, North Reading paraprofessionals called on the North Reading School Committee to approve a new contract for paras that includes a living wage. Paras were joined by North Reading teachers, parents, and students who support their demand for fair compensation.
"It is time to acknowledge that paraprofessionals are not just an accessory in our education system, but a cornerstone of its success. Their tireless dedication, unwavering compassion, and pivotal role in turning inclusion into reality deserve our utmost appreciation, yet the financial compensation they receive often fails to reflect the depth of their contributions," said Debbie Sharp, a North Reading parent and special education advocate. "It is time to not only recognize their efforts but to also elevate their status within our educational institutions, providing them with the support and recognition they so rightfully deserve."