Education reforms in Massachusetts reliant on high-stakes, test-based accountability "have failed to reduce the achievement gap or to improve schools," concludes a new report by a special Senate Subcommittee to the Joint Committee on Education.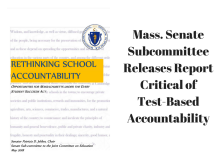 The comprehensive and detailed report, titled Rethinking School Accountability, reviews the history of educational improvement efforts in Massachusetts, including the 1993 Massachusetts Education Reform Act and the 2010 Achievement Gap Act. Based on experiences to date, and particularly trends since 2010, the report notes a "growing consensus that rewards and punishments based on testing are ineffective in reducing inequality, and that schools alone cannot achieve equity in student learning opportunities and outcomes."
Instead of pursuing top-down, heavy-handed interventions, policymakers should take advantage of opportunities under the new federal educational law, The Every Student Succeeds Act, to chart a new path on accountability that "can restore the mutual accountability between local schools and state government that was the basis of the 1993 reform."
The report also calls for a renewed commitment to upholding the Commonwealth's obligation to equitable and adequate funding for all public schools. "It is cynical, cruel, and ineffective to continue to raise standards and increase sanctions without ensuring that all schools have the resources the legislature itself found were required for an equal and adequate education," the report says.
The subcommittee was chaired by State Sen. Pat Jehlen, whose office coordinated the research and writing of the report.