Members of the Lawrence Teachers' Union and AFT Massachusetts distributed hundreds of free books, winter clothes, and school supplies to Lawrence families earlier this month at the Lawrence Mobile Food Market, hosted by the Lawrence Public Schools (LPS) and the Greater Boston Food Bank. On Saturday, December 12, educators gave away approximately 2000 books, 500 sets of winter hats, gloves, and scarves, and other school supplies to LPS families.
"Our book, clothing, and school supply giveaway was a huge success. It was great to have the opportunity to put books in the hands of our students, and make sure they have warm clothes they need to get fresh air and explore the outdoors this winter," said Lawrence Teachers' Union President Kim Barry. "I'm grateful to all the LTU members who volunteered their time to sort and distribute these important supplies, and to all those who have volunteered regularly at the Mobile Food Market to ensure that Lawrence families have healthy food to eat. Lawrence continues to be hit hard by the pandemic, and it will take community support efforts like this for us to get through the winter together."
The giveaway was supported by the Blue Cross Blue Shield of Massachusetts Foundation, which gave AFT Massachusetts a $25,000 grant this year to support students struggling with the impact of the COVID-19 pandemic.
"We love making our students smile, even when it's behind their masks. Especially now, when many students can't be in the classroom safely, it's important to ensure that students have age-appropriate books at home," said AFT Massachusetts President Beth Kontos. "I want to thank the Blue Cross Blue Shield of Massachusetts Foundation for partnering with us to support our students during the pandemic, with a focus on the communities like Lawrence that have been affected most by COVID-19."
"The coronavirus pandemic and resulting economic crisis continues to have significant impact on children and families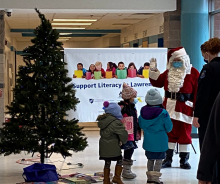 across the Commonwealth," said Jeff Bellows, Vice President of Corporate Citizenship and Public Affairs at Blue Cross Blue Shield of Massachusetts. "We are proud to support longstanding partners like the American Federation of Teachers Massachusetts as they work on the frontlines helping to ensure our students get the support they need during these critical times and always."
Members of the Lawrence Teachers Union (LTU) regularly volunteer with the Mobile Food Market in Lawrence to support their students and community. At the Mobile Food Market, families can choose from a diverse selection of free fresh produce and dairy products, as well as frozen soup and high-protein items.
Especially during the coronavirus crisis, when many Lawrence residents have lost jobs and income, families depend on the Mobile Food Market for healthy food. November's LPS Mobile Food Market served over 500 households, including approximately 1,400 LPS students.