After a contract campaign that brought hundreds of educators, elected officials, and community members together to demand a living wage, the Lawrence Federation of Paraprofessionals (LFP) has reached a tentative agreement on a historic contract settlement. The LFP pushed for months to lift its members out of poverty and win a living wage for all members. LFP members are overwhelmingly Lawrence Residents, LPS parents, and women of color. The LFP fought to ensure that this new contract created more educational stability for students, greater support for families, and better working conditions for staff.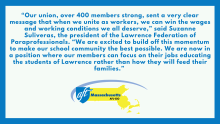 "Our union, over 400 members strong, sent a very clear message that when we unite as workers, we can win the wages and working conditions we all deserve," said Suzanne Suliveras, the president of the Lawrence Federation of Paraprofessionals. "We are excited to build off this momentum to make our school community the best possible. We are now in a position where our members can focus on their jobs educating the students of Lawrence rather than how they will feed their families."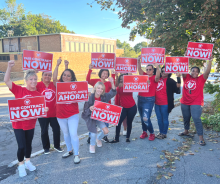 The tentative agreement raises the minimum wage for instructional paraprofessionals in Lawrence from $14.79 to $21 an hour. It will increase the maximum wage from $22.44 to $31.83 an hour by the end of the three-year pact. In addition, lunch aides represented by the LFP will see a $5,500 annual pensionable stipend, as well as hourly wage increases. 
"For the first time in over two decades, we are seeing some of our lowest-paid workers get a real raise," said Juan Santiago, a lunch aide and negotiation team member. "One of our lunch aides has been employed by LPS for 25 years and was only making $16.64 an hour. After this agreement, between the increase in hourly wages plus the new stipend, this member will see an almost $9,500 increase to her annual wages in the first year alone." 
Contract negotiations took place during a time when the Lawrence Public Schools received an unprecedented influx of money, receiving over eighty-four million dollars in federal COVID-19 relief funds and seeing an eighteen million dollar increase in Chapter 70 aid this fiscal year alone.  
"We finally achieved wage justice!" proclaimed Maria Bones, a 29-year veteran parent liaison and union activist. "Our new contract finally recognizes the years of dedication our hard-working members have given to this district and community. In some cases, members are receiving over a double-digit dollar hourly increase. This outcome will be life-changing." 
The Lawrence Federation of Paraprofessionals will move to ratify this tentative agreement later this afternoon and look forward to this contract being approved by the Lawrence Alliance for Education shortly thereafter.  
"As a paraprofessional who has aspirations to become a certified teacher, this new agreement gives me confidence that I can achieve those goals," said Heidy Castillo, a paraprofessional at the Oliver Elementary School and contract action team chair. "My colleagues and I will finally be getting paid for putting in the extra work, going to college, and earning our degrees. This change will undoubtedly help keep many of us in LPS and ensure long-lasting relationships with our students."