The state should scrap its proposal to increase the passing standard on the 10th grade MCAS exams and instead expand alternative pathways to high school graduation, AFT MA President Beth Kontos tells state education officials in a June 2 letter.
"Raising the cut scores required for high school graduation would have a harmful impact on the Commonwealth's most vulnerable students, impairing their futures by potentially denying these students the opportunity to earn a high school diploma," Kontos writes. "Instead of doubling down on a flawed test that promotes inequality … put your energies into developing more non-MCAS pathways to a high school diploma."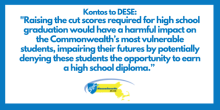 The letter was written in response to a
proposal
by the Department of Elementary and Secondary Education (DESE) to raise the passing standard (cut scores) for the
Competency Determination
(CD) on the high school English language arts (ELA), mathematics, and science and technology/engineering (STE) MCAS exams, starting with the class of 2026 (this year's 8th graders). The proposal would raise the minimum cut score on all three exams to 470. That threshold,
according to DESE data
, would cause the greatest potential harm to historically marginalized groups, such as English learners, students with disabilities, economically disadvantaged students, Black students, and Latinx students.
"How does the establishment of new barriers to a high school diploma square with DESE's professed aim of advancing racial and social equity?" Kontos asks state officials. "Your proposal to raise the passing standard appears to be in direct conflict with your larger equity goals—and for that reason alone should be abandoned."
Kontos' letter goes on to spell out other harms the proposal would cause, including instructional time lost to unproductive test prep and more stress and anxiety for students. The letter then outlines a proposal for a new path forward that would include an extension of the current Educational Proficiency Plan (EPP) option to a larger pool of students and the elimination of existing MCAS re-take requirements.
"We do not support MCAS re-takes being a required component of any pathway to high school graduation, including any expansion of the EPP. These re-tests – and the preparation for them –are a waste of valuable teaching and learning time, and they cause unnecessary stress and anxiety."
Read the complete letter here, and then take action yourself by sending your own letter to Commissioner Jeff Riley and members of the Board of Elementary and Secondary Education.
The Board is scheduled to vote on this proposal at its June 28 meeting. As that date approaches, look for the meeting agenda here.