In recent years, a major issue facing municipal employees, including educators, is the skyrocketing rate of health insurance premiums. The City of Amesbury, however, has avoided significant rate increases over the past decade. Local union leaders attribute part of this success to an innovative partnership with the City to offer health and wellness programming to employees.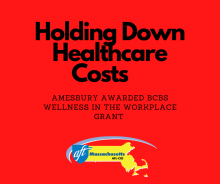 AFT Amesbury President Cindy Yetman chairs the city's MIIA Well Power committee, where she is joined by Alyssa Premo from the Mayor's office and other city employees. Together, they have applied for and received multiple grants to support health and wellness programming in the city.
"My involvement with wellness programming started when the rising cost of insurance premiums made me think outside the box," said Cindy Yetman. "I believe our partnership with the City of Amesbury and MIIA Blue Cross Blue Shield to offer health and wellness programming has allowed our health insurance premium rates to maintain some stability."
Employee premiums have never been raised anywhere near the double digits as the national average increases at times are reported, according to Yetman. There has been a renewal as well where increases were not made at all.
"We have been able to offer better benefits for our city employees in our most recent renewals." she said. "In the past we actually were able to decrease dental premium costs and add more robust coverage. I believe the benefits for our city and our employees has made this work worthwhile."
This month, Amesbury's MIIA Well Power committee was awarded a $20,000 'Wellness in the Workplace' grant from MIIA Blue Cross Blue Shield to install 'Fresh Fridge' healthy vending machines in four schools, City Hall, and a city public works multi-office building. The grant also allowed for the purchase of 40-50 standing desks for city employees. 
Before applying for the grant, the Well Power committee conducted a survey of city employees, with 217 employees participating. The top choices for wellness initiatives among participating employees were standing desks and healthy vending machines.
The new 'Fresh Fridge' healthy vending machines, made by the MA-based company 6AM Health, offer nutritious salads, lunch & dinner bowls, sandwiches & wraps, cold-pressed juices, and protein overnight oats/snacks for nominal fees. 
"People are happy to have healthy food options in the building and in City Hall close to downtown operations," said Yetman. "Providing improved food options is another step we're taking in Amesbury to help employees stay healthy and try to assist in our health insurance costs."