The Hathorne Teachers Federation, the union which represents teachers at Essex North Shore Agricultural & Technical School, have successfully negotiated a new collective bargaining agreement which will run through the 2025-2026 school year. The union had been in negotiations with the district for a full year before reaching the agreement.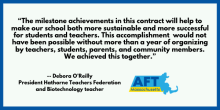 The historic contract will see teachers receive the largest wage increases in the history of the school district, between 12% and 15% over four school years. The district will provide support to teachers with high student loads, including additional preparation time and additional compensation. The issue of mitigating growing student loads and class sizes was a top priority for teachers.
"The milestone achievements in this contract will help to make our school both more sustainable and more successful for students and teachers," said Debora O'Reilly, Union President and Biotechnology teacher. "This accomplishment  would not have been possible without more than a year of organizing by teachers, students, parents, and community members. We achieved this together."
"As a vocational school, we teach all of our students the value of hands-on experience in our various fields," said Cassia Gilroy, Union Vice-President and Cosmetology Teacher. "In addition to addressing concerns around workload and compensation, this contract will make great strides in recognizing the value brought to the school by our CTE teachers' real-world experience."
"Throughout this process, students, parents and teachers banded together in a way that I could not have expected," said Maura Stone, an Essex Tech teacher. "If we continue to work together in our advocacy, we can help to ensure that Essex Tech becomes the best school that it can possibly be."
Highlights from the agreement:
Wage increases between 12% and 14.5%.
First ever provisions regarding student load, giving more prep time and compensation to the teachers with the highest student loads.
Amended pay scale which values CTE teachers who have professional experience, but no bachelors degree
Increased transparency through improved hiring committees, grievance procedure, and new-hire orientation
Increased longevity and a future retention bonus to help increase teacher retention.