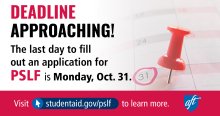 The temporary Public Service Loan Forgiveness waiver expires on Oct. 31. Most AFT members who have federal student loans can qualify for PSLF, which allows you to have the entire remaining balance of your direct federal loans forgiven after 120 qualifying payments. In the last 12 months during the waiver period, thousands of people have had their loans forgiven, and thousands more have gained credit for additional payments that move them closer to forgiveness. But this waiver ends on Monday, Oct. 31.
Don't delay! Don't miss this life-changing opportunity to get out from under the burden of student debt—start your PSLF application today.
Use the Department of Education's PSLF Help Tool, located at https://studentaid.gov/pslf, and log in to your Federal Student Aid (FSA) account, to start your application today. Need more information? Check our website https://aft.org/pslf and register for an upcoming AFT Student Debt Clinic webinar here https://cvent.me/17XZka.