It's no secret that Massachusetts has been hit hard by COVID, but for low-income and communities of color, it's been particularly damaging. Chelsea, one of Massachusetts poorest communities, have been ringing the crisis alarm for decades. This ringing came to head, however, in December 2021 when community leaders, parents, students, educators and paraprofessionals joined forces, demanding a slew of improvements for school and staff alike. After years of building power and taking collective action, the Chelsea Teachers Union won many of their demands. We sat down and spoke with Kathryn Anderson, President of the Chelsea Teachers' Union (CTU), to see what this win for the local and the community means moving forward.
"Chelsea was hit hard by COVID," said Anderson. "It was only made worse because our community as a whole has been underserved, underfunded, and underemployed." Local school districts have become a magnifying glass for the intersection between community, young people, and educational workers. Anderson adds, "it's not just about all these things coming together, but it tells the story of what districts have been going through for a very long time." Chelsea has endured drastic budget cuts for decades, leaving educators and students worse for the wear. "The biggest pressure we've seen is increasing class sizes and community pressures. During the pandemic, nearly half of our student population experienced a food and /or housing crisis and over 80% of our community had lost income or had a major health crisis."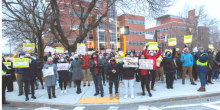 Pressure, combined with isolation, has left many educators feeling alone and without many options. That was until CTU members decided to turn this despair into an opportunity to work together, alongside community members. "I used to feel like educators and school staff were a community who have worked hard throughout being on the frontlines of the pandemic, just to be tossed away. That feeling dissolved though, when folks attended our latest action," said Kathryn. In December, after weeks of collective action among CTU members and local community members, they won a slew of demands, improving the outcomes of their latest contract negotiations. 
After the rally, the negotiation wins were made public. CTU settled on wage reopener for clerks at a 10% raise over 3 years, while teachers got a 14% raise over the next 3 years. Depending on how many years they've been in the district, paraprofessionals will see an average raise of 18%, up to almost 25%. Some of the greatest wins came to paraprofessionals, which Kathryn credits to the strong organizing efforts between CTU members and community members. CTU got agreement to compensate bilingual paraprofessionals for daily translation, prep time is compensated for all para's, and lead para's at every grade to help mentor new para's, aiming to address our current turnover rate.  
"Teaching is such an isolating profession, but time and time again our union has given me hope," said Kathryn. "When I talk with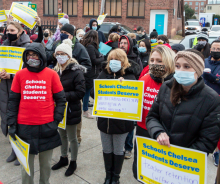 coworkers, we realize we're not alone. In fact, we can work together to be the solutions we need. That's how we were able to win in our latest round of negotiations and how we're going to collaborate and win more moving ahead."
When asked what the CTU has in store for 2022, Kathryn smiles. "What do we do now? What we've been doing," she says. "Talk to your coworkers and community members. The more you realize you have the same frustrations, the quicker we are to come up with solutions and get them resolved." Kathryn says that through talking with paraprofessionals and teachers the union realized just how important prep time is for paraprofessionals and their students. "It's all about talking to each other, and building trust and relationships." As for concerns that were not addressed in the negotiations, they're still on the docket for getting solved. Class sizes and caseload ratios are still a top priority, but Kathryn is taking that to the budget cycle and elsewhere. Kathryn is not worried that lingering concerns won't be resolved because the momentum the CTU members and community has built will continue to grow. "When you show people you can win, they are more confident and proactive in organizing for the school our kids deserve. We're not waiting anymore–people want to be empowered in their work. When we show a path to get that and win, we get more and more people working with us."