Wednesday, April 7 is Paraprofessional Appreciation Day, a national day when we celebrate our paraprofessionals and highlight the contributions of paraprofessionals to their students and schools. Over the last year, paraprofessionals have gone above and beyond to meet the needs of students and support the work of our schools under incredibly challenging circumstances.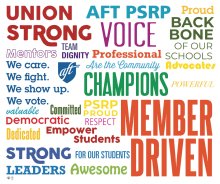 Paraprofessionals, or paras, provide instructional, behavioral, and other support to students, especially English language learner (ELL) students and students with special education needs such as physical or developmental disabilities. A typical day includes everything from de-escalating behavioral issues and helping students communicate to helping physically disabled students move about the classroom and build daily living skills. Paras are often simultaneously working as educators, caregivers, guidance counselors, and translators – all wrapped up in one job.
This school year, in addition to their regular work with high-needs students who are learning in-person, paras are using virtual learning platforms such as Google Classroom and Zoom, managing the technology for virtual classrooms, and keeping in touch with students who are learning from home. In the classroom, paras ensure that students practice social distancing and wear proper personal protective equipment (PPE) – not an easy task with many high-needs students who don't understand the need for these safety measures.
"The past year would not have been possible without our paraprofessionals – period. When schools closed a year ago, paras stepped up to make sure students received food, help with technology, and the other resources necessary to create a safe learning environment at home," said AFT Massachusetts President Beth Kontos. "This school year, paraprofessionals dealt with ever-changing job descriptions as they worked to support students in remote, hybrid, and in-person learning models. As we work to safely return more students to full-time in-person learning, paras are at the front lines, ensuring that students stay safe and receive the academic, emotional, and social support they need to get back on track."
"For years, paraprofessionals have done this critical work, often without the pay and gratitude they deserve," said Kontos. "As we work to recover from the pandemic, AFT Massachusetts is committed to lifting up the important work that paras do every day, and demanding that their work is properly recognized and rewarded."
From everyone at AFT Massachusetts, thank you to our paraprofessionals for the amazing work they do every day!