At a membership meeting in early February, Boston Teachers Union members unanimously voted in support of the BTU Unafraid Educators' work, along with community groups like the Student Immigrant Movement (SIM), to regulate and limit the sharing of student information with law enforcement. But that's just one part of the work the group is doing to support immigrant and undocumented students and their families in Boston.
The BTU Unafraid Educators are a group of BTU members seeking to build schools where all immigrant and undocumented students are welcomed, respected, cherished, and protected.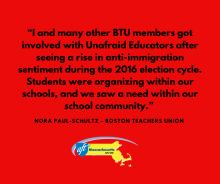 "I and many other BTU members got involved with Unafraid Educators after seeing a rise in anti-immigration sentiment during the 2016 election cycle. Students were organizing within our schools, and we saw a need within our school community," says 
Nora Paul-Schultz, a Physics Teacher at the John D. O'Bryant School of Math and Science
. "Lena [Papagiannis, a History Teacher at the O'Bryant School] and I tried to put together a college access workshop for undocumented students, and found there weren't easily accessible resources. We were connected to Unafraid Educators, which had been started in early 2016 by a guidance counselor and leaders from SIM. We were excited to learn there was already a group doing some of this work."
Members of the group provide trainings to students, parents, and other educators on college access for undocumented students, working especially closely with the Student Immigrant Movement (SIM), a statewide group of student organizers, on presentations for students and families. The BTU Unafraid Educators guide for undocumented students applying to college can be found at bit.ly/unafraidcollegeguide.
"Unafraid Educators is all about helping our students feel more welcomed and more supported," says Papagiannis, the History Teacher at the O'Bryant School. "We see our work as building sanctuary schools from the ground up, which, to us, means empowering educators with the tools to support undocumented students and those from mixed-status families. This begins in classrooms and spreads throughout entire school communities through the Week of Action and college access programming. We also see our role in the political sphere, advocating for district policies and government legislation that protects our students and their families."
The Unafraid Scholarship
The BTU Unafraid Educators also run the Unafraid Scholarship, which provides financial support for Boston Public Schools students who are not eligible to receive financial aid from the federal government due to their immigration status.
"I got involved with Unafraid Educators right after the 2016 election. That first meeting after the election saw a huge turnout," says Adriana Costache, a Math and Science Teacher at Fenway High School. "We had started a scholarship for undocumented students at Fenway High after Obama announced the DACA program [which provides temporary protection from deportation for undocumented immigrants who came to the United States before the age of 16], and we were looking for ways to grow it. Unafraid Educators helped bring it district wide."
In its first year, the Unafraid Scholarship raised $24,000 in 7 weeks, and gave out scholarships to 10 students in August 2017. By the time the third set of scholarships were awarded in August 2019, the scholarship had grown to $77,000 raised and 45 students supported, with scholarship awards ranging between $500 and $4,000 per student. Students are able to reapply for the scholarship every year, and several students are now in their third year of receiving the scholarship, including a few who are on track to graduate in May. A total of $176,000 has been awarded to 60 individual students over the three years of the program's existence.
"Each year, we've received more applications and been able to award money to more students, but that means we really need help to raise more funds so that we can meet each students' needs," says Costache.
Donations to the Unafraid Scholarship can be made here, and applications for the fourth year of the scholarship can be found here. Students must submit all materials by June 1, 2020.
The Unafraid Scholarship idea is also spreading to other districts—Somerville and Lawrence have both started scholarships, with other communities planning their own. The impact on students who receive the funds can be transformative.
"One of my 11th graders works a full time job to help her mom pay rent, and it's difficult for her to come back to school after working double shifts during the weekend," said Costache. "This scholarship is a light at the end of the tunnel for her."
Political Action
In addition to supporting undocumented students with college access, the Unafraid Educators also engage in political action to protect immigrant students. The group has worked on several projects over the years and is currently focused on regulating the type of information that is shared between the Boston Public Schools (BPS) and the Boston Police Department in order to limit student information from being shared with with Immigration and Customs Enforcement (ICE).
"In 2017, we learned that that a BPS student had an incident report from a Boston School Police officer used in his deportation hearing, and the student was deported," says Papagiannis. "School should be a safe haven for students, where they are free to learn and grow without fear."
Over 130 reports from Boston Public Schools have ended up with Immigration and Customs Enforcement (ICE), jeopardizing these young people's futures. 
"We worked to understand BPS policies, and wrote a policy proposal that would fix this problem of excessive information sharing that endangers immigrant students. We're now pushing the Superintendent's team to adopt it." says Papagiannis. "I'm excited to be part of a union like the BTU that has organizing committees that allow us to work as union leaders on projects that help our students and their communities. It's a model of social justice organizing that goes beyond what some people would think of as union work."
"We've had over 200 people attend our community meetings to learn more about the issue and plan to take action. It's been energizing to see how many people are passionate about this and to galvanize them to take action with us," says Paul-Schultz. "This work has also allowed me to engage with students in new ways, as I support them in speaking out."
Supporters can sign a petition in support of making Boston schools safe from ICE at bit.ly/noiceinbps.
Week of Action
The Unafraid Educators are currently planning a Week of Action later this spring, with actions at over 50 individual BPS schools planned. Activities range from fundraising and rallies to simply daily actions like posting pictures saying "I support my undocumented students and families" in the classroom.
"It's important to support our undocumented students publicly, rather than waiting for students to come to us and share their immigration status," says Paul-Schultz.
A toolkit with resources for educators who want to participate in the week of action can be found at bit.ly/unafraidtoolkit. Organizers encourage educators across the state to get involved.
"It's easy to start small. For the first time we had a week of action, I took a picture with a sign and posted it in my classroom, and sent an email to the other educators in my building," says Costache. "Three years later, we organized an entire week of action including fundraising, and events every day."
"This isn't something to do alone," says Papagiannis. "Find a small group: two or three other people in your school or in your union will make a world of difference. We couldn't do this work without each other."