Many AFT Massachusetts members spend their summers teaching summer school, but for Toni Bourgea, a veteran teacher at South Shore Vocational Technical High School in Hanover, this summer presented an incredible opportunity: teaching English to Polish and Ukrainian students in the small town of Ciezsanow, Poland, near the Polish-Ukranian border.
This spring, after AFT Massachusetts President Randi Weingarten traveled to the border to visit displaced Ukranian students, she had the idea to send a group of educators to the region. 15 teachers were selected out of hundreds of applicants.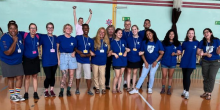 Toni, an English teacher and president of the union at South Shore Vocational Technical High School, used to run overseas trips for students and parents from the school, traveling to 17 countries in 7 years. When she learned about the planned trip to Poland, she jumped at the opportunity to apply.
"I was thrilled I had gotten the request and submitted my application right away," says Toni. "By a few days, later, there were hundreds of applicants and I thought I had no chance. I was delighted when I got the call that I'd been selected; it was really such an honor to be part of this trip."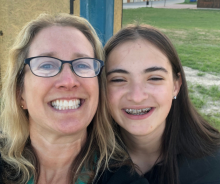 After being chosen, Toni and her 13-year-old daughter, Anne Bourgea, booked their tickets and headed to Poland on July 16, flying from Newark, New Jersey, to Warsaw and then on to Rzeszów Airport, where they had had a 1 ½-hour drive to Ciezsanow.
The 2-week residential education program brought together 30 Polish students and 30 Ukrainian students to learn English, and the educators and staff of the program included adults from Poland, Ukraine, Israel, Brazil and America.
"Not only were we bringing students together across the border, but adults from all around the world too," Toni explains. "I taught English to 10 high-school students, 5 Polish and 5 Ukrainian, from nine to noon every weekday. We also fit in many fun activities such as kayaking, disco, obstacle courses, BBQs, team work activities, kickboxing, mural-drawing, sports competitions, and tours of Zamosc and Przemyśl."
The American teachers stayed in cabins at a campground near the school, while the Polish and Ukrainian students stayed on mats at the school, summer camp-style.
"What a melting pot of education and shared knowledge!" says Toni. "I've travelled all over the world, but this was the first time I travelled and lived among regular people, rather than as a tourist, and it was such a nice exchange with everyone in the town. We made such a real impact on their lives and they made one on ours."
For Toni, teaching in this setting generated lessons that she's excited to bring back to her students at South Shore Voc Tech.
"Bringing teaching to this new level helped me reset my teaching button," she explains. "I saw how I can make English a little more fun, and a little more interactive, with less paperwork and more moving around. It was incredible to build these relationships across cultural boundaries, and be part of something bigger. I'd go back in a heartbeat."