To fight COVID-19, relieve the economic damage it is causing for workers, families, and businesses, and tackle racial inequalities, Massachusetts needs a government response that rises to the needs of our communities, which are greater than ever. Healthcare, transportation, education, housing, safety net programs, and other critical areas of the state budget need more support now, not less. The need is especially great in our public schools and colleges.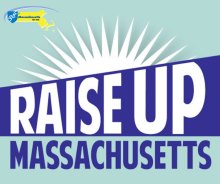 "PreK-12 schools need more state funding for ventilation upgrades, cleaning supplies, and additional staff to provide high-quality remote learning and student outreach. Students across the state need more support to handle the trauma and learning loss caused by school closures, not less," says AFT Massachusetts President Beth Kontos. "Our public colleges and universities, long underfunded, must be protected from destructive cuts and layoffs as they deal with the loss of room and board revenue while preparing to educate the thousands of potential students who are looking to pursue a degree or certificate after losing their jobs in recent months."
But as months go by without help from the federal government, state budget shortfalls are causing budget cuts that threaten to worsen the effects of this downturn and impair our economy's recovery. This summer, the legislature delayed the first year of new preK-12 school funding from the Student Opportunity Act, depriving low-income students and schools of the resources they were promised last year. This month, UMass officials permanently laid off 141 workers and furloughed an 1,616 workers indefinitely amid a $335 million budget shortfall.
To ensure that Massachusetts has the resources to invest in the public services that will power an equitable recovery, AFT Massachusetts is joining the Raise Up Massachusetts coalition and 150+ community organizations, faith groups, labor unions, public health associations, and social services providers in the 'Invest in Our Recovery' campaign. The campaign aims to avoid destructive budget cuts that would only add to the harm the COVID-19 pandemic has caused and instead move forward with investments that improve public health, grow our economy and tackle racial inequities.
The campaign calls on legislators to implement three policies to raise significant new revenue from profitable corporations and their shareholders: increasing the tax rate on corporate profits, conforming to federal law for the taxation of domestic profits that are shifted overseas (known as GILTI, or 'Global Intangible Low Taxed Income'), and increasing the tax rate that investors pay on unearned income.
"So many families are suffering during this pandemic, and working people have all sacrificed so much to get our communities through these hard times. Many small businesses are hurting as well. But at the same time, many of the largest corporations in Massachusetts and the country are seeing record profits," said President Kontos. "Rather than reinvesting their profits in protecting workers or buying new equipment, these corporations have distributed virtually billions of dollars in profits to their wealthy shareholders. It's time for them to do their part to support our economic recovery."
For more information on the 'Invest in Our Recovery' campaign and details about the three policy proposals, visit
raiseupma.org/inves
t.