This weekend, the AFT Massachusetts Executive Board voted to endorse a proposed ballot initiative that would end the use of the MCAS standardized test as a graduation requirement, replacing it with locally-developed, coursework-based measures for certifying academic mastery of state standards.
With a goal of making sure that all children can receive a high-quality public education that allows them to reach their full potential and thrive, this ballot question would align Massachusetts with the 42 states that don't use a single, high-stakes test to deny diplomas to high school students. It would require instead that districts certify that students have demonstrated through satisfactory completion of coursework that they have mastered the skills, competencies and knowledge required by the state standards. While passing the MCAS would no longer be a graduation requirement, students would still take the MCAS, as required by federal and state law.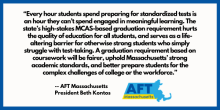 "Every hour students spend preparing for standardized tests is an hour they can't spend engaged in meaningful learning. The state's high-stakes MCAS-based graduation requirement hurts the quality of education for all students, and serves as a life-altering barrier for otherwise strong students who simply struggle with test-taking," said AFT Massachusetts President Beth Kontos. "A graduation requirement based on coursework will be fairer, uphold Massachusetts' strong academic standards, and better prepare students for the complex challenges of college or the workforce."
The ballot question will ensure that students learn the content and skills required by the state standards in order to graduate. But it will rely on the more effective forms of assessment that educators and schools use every day and will end the practice of students being denied a diploma because of a single, high-stakes test.
Following the state Attorney General's certification of the ballot initiative, supporters are now beginning to gather more than 74,000 signatures from registered Massachusetts voters, the number required for the question to move forward and eventually appear on the 2024 statewide ballot if the Legislature takes no action before then.
AFT Massachusetts will soon be distributing petition sheets to locals, which can be used to gather signatures. Interested AFT Massachusetts leaders and activists may contact AFT Massachusetts Director of Organization Brian LaPierre at 617-974-1243 or Blapierre@aftma.net for more information and specific instructions on the signature-gathering process.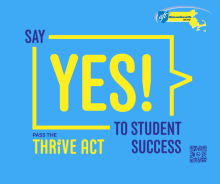 AFT Massachusetts also continues to strongly support the Thrive Act, legislation that would replace two education policies that harm students and disrupt their education – the MCAS-based graduation requirement and state takeover of public schools – with a better system that focuses on supporting the whole child. To learn more about the Thrive Act, visit massedjustice.org/thriveact, and to email your state senator and state representative in support of the bill, use our advocacy tool.
"Our support for this ballot initiative complements our unwavering commitment to all components of the Thrive Act," said Kontos. "That advocacy will continue at full throttle, and we urge all AFT Massachusetts members to double down on their efforts to get the Thrive Act passed during this legislative session."