As Executive Director of the Massachusetts Education Justice Alliance (MEJA), the coalition of organizations, including AFT Massachusetts, that fought and won the passage of the Student Opportunity Act, Charlotte Kelly spent three years at the forefront of the transformation Fund Our Future campaign that will invest more than a billion dollars into public schools across Massachusetts. Now, as AFT Massachusetts's new Organizer, she's working to ensure that that money makes its way to the classroom to support the students and educators who need it the most.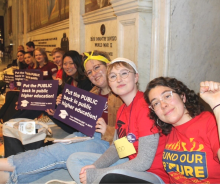 Tasked with supporting high-profile campaigns across the entire union, Charlotte is currently working to support the Chelsea Teachers Union (CTU) during their contract negotiations. That work brings her back to a community she got to know well during the campaign to pass the Student Opportunity Act (SOA).
"Chelsea is a community that has lived under austerity measures for years, and is now set up to gain significant money under the Student Opportunity Act," says Charlotte. "I've worked for years with the CTU and other community groups to win that funding. Between SOA and ESSER [federal COVID relief funding for schools], Chelsea schools are getting millions. We're pushing for living wages for paras, compensation for multilingual educators, adequate prep time for teachers, paras, & counselors, and competitive pay."
Charlotte explains that educator pay in Chelsea is significantly below neighboring communities like Winthrop, Revere, Malden, and Everett.
"So many of these issues are racial justice issues," she says. "Educators are forced to chose between struggling to financially afford staying in Chelsea or leaving for other districts with more fair compensation, smaller caseloads, and supports, we can see how these working conditions leads to CPS low retention rate. We know young people see the turnover and feel the instability in their schools. Chelsea students deserve stability in their schools, they deserve educators who are not stretch beyond their limits, and they deserve educators of color to be paid competitive and fair wages for their labor." 
"We're excited to work with Charlotte on the ground in Chelsea to fight for the resources we need to create the schools our students deserve," said Kathryn Anderson, President of the Chelsea Teachers' Union and an eighth-grade special education teacher at the Browne Middle School. "Charlotte has proven to be a strong leader in our negotiations as we look to finalize a new contract with the City. Her dedication to working for a more equitable and just education system is remarkable and we look forward to continuing to work hand-in-hand with Charlotte in our fight to get our kids the staff and services they deserve."
A graduate of Medford High School, Charlotte dove headfirst into activism during her time at UMass Amherst, where she studied political science and gender studies, but in her words, "spent most of my time doing organizing work." From working with the Student Labor Action Project to build student solidarity with labor struggles on campus, to organizing with the Center for Education Policy and Advocacy (CEPA) around issues of access, affordability, and student debt at public colleges, to planning direct actions on campus to support the fossil fuel disinvestment campaign, Charlotte spent her undergraduate years organizing with fellow students, community, and labor partners.
After graduating from UMass Amherst, she served as field director for State Senator Pat Jehlen's reelection campaign, helping to win another term for a public school champion who was facing a high-profile opponent backed by tens of thousands of dollars in outside spending by the charter school industry.
Charlotte then moved to Copenhagen, Denmark to study a Masters in Political theory where she focused her work on the rise of the neoliberal university and US student debt crisis. After returning to the US, Charlotte became the Executive Director of MEJA, where she helped fight for and win the most progressive school funding formula in the country, which will invest more than $1.5 billion into public schools — specifically funding low-income communities, communities of color, immigrant communities, and communities with special education students. While running a multi-year legislative campaign was a significant portion of her job, Charlotte says some of her most meaningful work at MEJA came from supporting local coalitions, including in AFT cities like Boston, Lowell, Lawrence, Chelsea, Salem and more, as they built and won successful local campaigns.
"Charlotte is a tenacious organizer who takes every opportunity to talk with educators, families, and community members to do what is best to support public education in Massachusetts," said AFT Massachusetts President Beth Kontos. "I'm thrilled to have her on our growing team as we work to reinvest in our students and their schools, recover from the disruption of the pandemic, and build a brighter future for education throughout Massachusetts."
Charlotte's years of organizing work make her well-equipped to support AFT educators as we organize in our school buildings and in our communities, building deeper relationships with parents, community groups, and youth. It also gives her the experience to help win our upcoming fights, like the campaign to pass the Fair Share Amendment, the ballot question which would fund transportation and public education by creating a 4 percent tax on annual income over $1 million.
"Folks from the UMass faculty staff union came to my college organizing group to talk about the Fair Share Amendment – that's how long we've been working on this," continued Charlotte. "Now that we're at a point where it'll be on the ballot in November 2022, I'm working on getting members ready to have conversations with their coworkers and neighbors. It's really critical for educators to be on the frontlines of getting this ballot question passed, because while next November might feel distant, Fair Share is deeply connected to the fights we're experiencing right now."
After working alongside AFT Massachusetts elected leaders, locals, staff, and members for years, Charlotte is excited to be formally joining the union's team.
"It's exciting to me that AFT has invested in these organizer positions," she says. "It demonstrates the direction AFT is moving in; building up our rank and file capacity and the organizing strength of locals and the statewide union. I'm excited to be on board as an organizer with the growing team at AFT Massachusetts."