With public education undergoing such challenging conditions during the COVID-19 pandemic, it's more important than ever to have lawmakers who understand what it's like in our classrooms. That's why so many AFT members across the country are putting their hat in the ring; running for office to serve their communities on school committees, in town halls, in state legislatures, and in the halls of Congress.
One AFT Massachusetts member who serves in public office is Dracut School Committee Member Renee Young, a history teacher at Billerica Memorial High School and member of the Billerica Federation of Teachers.
Renee is a lifelong resident of Dracut and a graduate of Dracut High School. She graduated from Assumption College in Worcester in 2008 with a Bachelor of Arts in History, a concentration in Secondary Education, and a minor in Sociology, and went on to earn a Master of Arts in Teaching History from Fitchburg State University in 2012.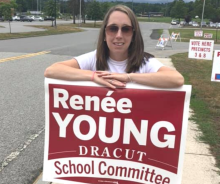 "I graduated from high school knowing I wanted to be a history teacher," says Renee. "I love teaching and making an impact on kids' lives. I teach 8th grade civics, and I tell my students that you can have the most impact on the local level."
Upon graduating from Assumption, Renee began her teaching career. She spent the first two years of her career teaching Social Studies at the Marshall Middle School in Billerica. For the past 10 years, she has taught history at Billerica Memorial High School.
In 2020, Renee ran for Dracut School Committee and won an open seat during the June 28 town election. Due to the pandemic, her campaigning took place entirely on social media, in the newspaper, over the phone, and with yard signs. And once elected, she dove right into the work of safely reopening schools, working on a joint committee with members of the select board and school committee.
"This year has been all about COVID, and while those safety issues will continue to be present this fall, I'm looking forward to doing some additional goal setting as a school committee this year," says Renee.
A driving reason behind her run for office was that Dracut had the 2nd lowest per-pupil expenditure in the state, barely meeting the foundation budget's minimum required spending levels. The district's pay scale starts relatively high, but doesn't increase significantly with experience, so many good teachers leave for higher-paying districts after several years.
"I got a good education here in Dracut, but with our low spending level, you have to be creative," she says. "As a teacher, I know how we can help streamline things, and motivate teachers to stay despite lower pay levels compared to neighboring districts. It's about creating a positive school culture and ensuring that teachers aren't taken for granted. We also have to work to raise our net school spending over time."
In Dracut, Renee is one of three current or former educators on the five-person School Committee.
"Because of that, we always remember the teachers, and that they are people too," she says. "That happens more in Dracut than it does in other towns."
In addition to being a public school graduate and educator, Renee looks forward to sending her children, Cameron (age 6), Colin (age 5), and Natalie (age 2) to Dracut Public Schools. Her experience as a parent and an educator helped inform her decision making as an elected official during the pandemic.
"As a mom, you have to look at things through several lenses: how do teachers feel, how do parents feel, how do kids feel," says Renee. "In Dracut we livestreamed teaching last year, and teachers agreed to that because in return, their children were able to attend school in-person to address teachers' child care needs."
Teaching full time while raising three kids and serving in elected office is a lot of work, but Renee says the payoff of running for local office is worth it.
"You get to make a lot of connections that you wouldn't otherwise get to make, and learn a lot more about the town. My advice to educators considering running for office it to find someone who can help you. I joined a Facebook group of school committee members who are teachers, and it's been great to talk to others about our shared challenges and strategize together."
Learn more about Renee at sites.google.com/view/renee-young-for-dracut-schools/home