With public education undergoing such challenging conditions during the COVID-19 pandemic, it's more important than ever to have lawmakers who understand what it's like in our classrooms. That's why so many AFT members across the country are putting their hat in the ring; running for office to serve their communities in town halls, state legislatures, and the halls of Congress.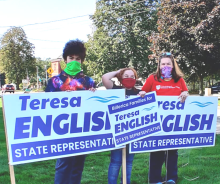 In Massachusetts, 
Teresa English
 is exactly the type of educator we need more of in public office. A history teacher at Lawrence High School and member of the Lawrence Teachers Union, Teresa is challenging incumbent Republican Rep. 
Marc Lombardo
 in the 22nd Middlesex House District, representing her home community of Billerica.
As a teacher and mother of two students at the Marshall Middle School in Billerica, Teresa is committed to being a champion for our public schools, our teachers, and our children. She will fight for more funding, safer teaching and learning conditions, and a public education system that won't allow any child to get left behind simply because of their zip code. Other priorities include passing a moratorium on high stakes testing, restoring collective bargaining, and working with schools under receivership to end DESE's takeover.
"For more than 30 years, I have been part of local public schools. I can praise public education's virtues and rail against its failings from the perspectives of student, parent, and teacher," said Teresa English. "My passion for education reform often runs into a brick wall of mandates and systemic racism. As our state legislatures become more representative, our governments begin to work for us. There are many laws that I want to change and more teachers' perspectives are definitely needed on Beacon Hill. The pandemic pushed me to explore how to make a bigger impact. So, I'm running for State Representative."
Teresa has earned the support of AFT Massachusetts, the Billerica Federation of Teachers, and her own teachers union: the Lawrence Teachers Union, which includes many Billerica residents like herself.
"Many legislators with a background in law or government don't understand what our classrooms are really like, or struggle to relate to the challenges that educators, students, and families face every day. When it comes to legislating for our schools, there's no replacement for a lawmaker with real-world teaching and parenting experience," said AFT Massachusetts President Beth Kontos. "Teresa English has the experience, the ideas, and the energy to help deliver the schools we and our students deserve."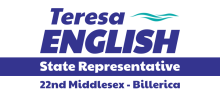 "The BFT is excited about having somebody who truly understands education from the ground up as our state representative from Billerica," said 
Dave Adams, president of the Billerica Federation of Teachers
. "We look forward to having a representative that will advocate for full and fair funding for our schools, who will follow the science when it comes to the pandemic, and who will lead on issues of social justice."
"Teresa is an empathetic and effective educator in the classroom, and a passionate and courageous advocate in her union and the community," said Lawrence Teachers Union president Kim Barry. "Those of us who have seen her work first-hand know that we need her fighting for us in the State House."
As a veteran Intelligence Analyst with the U. S. Air Force before she began teaching, Teresa is ready to bring people together to do what's right for our Commonwealth.
"My classroom will become the halls of the State House by implementing norms, rules for civil discourse, and using my "teacher voice" when needed," said Teresa.
Now more than ever, that's what we need in public office. Learn more about Teresa or get involved with her campaign at https://www.voteteresaenglish.org/