Gina O'Toole was a paraprofessional with 12 years of experience with Lynn Public Schools when she walked into an AFT Massachusetts Member Organizer Program first meeting in 2018. It was just after the US Supreme Court's Janus decision, a ruling that remains one of the biggest threats to organized labor in decades.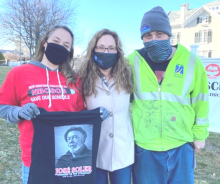 That meeting, the launch of the Member Organizer Institute AFT National's MOI (Member Organizer Institute) program, sent Gina on a new career path. She took on a new role at AFT Massachusetts as one of the union's member organizers on behalf of her local the Lynn Teachers Union.
Later that summer Gina was hired by AFT Massachusetts as a Member Organizer. She is currently on a union leave of absence from Lynn Public Schools.
"Gina has been a leader in our Lynn local for years and she excels at member engagement," said AFT Massachusetts President Beth Kontos. "When the time came for us to hire an organizer at AFT Massachusetts, she was the natural choice."
"Nothing beats a union member's ability to draw from personal work and union experience to engage and activate potential members," continued Kontos. "The AFT Member Organizing Institute supports the vital work being done in our locals to build capacity and identify emerging leaders like Gina."
Gina's organizing duties include assisting the Lawrence, Lynn, Chelmsford teachers' unions, the New Bedford paraprofessionals union, and UMass Dartmouth Faculty Federation/ESU unit along with the AFT MA Massachusetts Maintainers Unit. She has been assigned the lead organizer of AFT Massachusetts member organizers program. The very program where Gina got her start with organizing. Just like Gina, those members are recruited by their local president, to do organizing work specifically to focus on member engagement.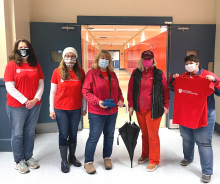 "My dad was active in his local, IUE-CWA Local 201, at the GE plant in Lynn," Gina says. "The plant employed thousands of people at the time and the union made you feel like you were part of a family that looked out for each other."
"The locals I work with are all different, each with their own different needs," she added, "but I still see the same thing – people feel like they belong to something. Something that they can count on and makes them stronger."
The pandemic presented a unique set of challenges for union organizers everywhere. Zoom is a great tool to get more people involved, and organized labor as whole benefitted from a surge in participation. But Gina really enjoys pulling people together in person.
"Having Gina as part of our team has been an enormous help to me and the LTU (Lawrence Teachers' Union)" says Kim Barry, president of the Lawrence Teachers Union. "Our weeklong series of walk-ins to protest the surge of violence at Lawrence High School certainly grabbed the attention of school administrators because Gina helped turn people out."
A resident of Lynn, Gina is married to Captain Mark O'Toole of the Lynn Police Department. Her son, United States Army Lieutenant Mark O'Toole & his wife Alicia live in North Carolina and Gina's daughter, Jacklyn, is a paraprofessional at the Cobbett Elementary School in Lynn.
"This job is the challenge I was looking for at this stage in my career," Gina says. "Having the support of the elected presidents on the state and local level has been truly rewarding."