Before AFT Amesbury member Tia Costello was selected as one of just 12 teachers nationwide to be part of an AFT Civics Design Team that will develop civics curricula and professional development for K-12 educators, she spent a decade teaching social studies to Amesbury middle school students. But her path to becoming a national civics education leader began long before that.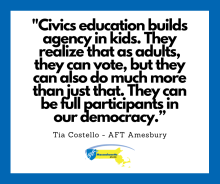 Tia began her career working in government, working for the US Census Bureau in the 2000 and 2010 censuses, including as an outreach manager for the Boston region. In between censuses, she obtained her MEd through Lesley University, taking classes on the weekends in Amesbury.
After her work on the 2010 census was finished, she was hired as a long-term substitute at Amesbury Middle School in January 2012. That September, she started working as a fifth grade ELA teacher, before quickly moving to sixth grade, where she spent five years teaching classical history.
Then, in 2019, Massachusetts mandated that all eighth graders receive a full year of civics instruction, and Tia jumped at the opportunity to share her passion for government and teach students the essential lesson of how to be thoughtful, active participants in our constitutional democracy. She's now one of two eighth grade civics teachers at Amesbury Middle School (the other is her husband, who's been teaching in Amesbury for over 20 years).
"Especially in the climate that we're in, it's important that educators understand how to talk about politics and ensure that we can have conversations without tuning each other out," says Tia. "It's important for teachers of civics to have passion, teach dynamically, and encourage, not shy away from, student participation."
Massachusetts' eighth grade civics curriculum includes a civic action project that all students complete, in which students apply civic knowledge and skills to engage with the process of creating social and political change in their communities. Students select a specific topic of interest, develop a theory of change, and then take action to specifically address the root cause of their issue, either by seeking to influence public opinion or advancing a specific policy.
"I really do believe that kids learn best when they get to do things themselves," says Tia. "Even though they're not old enough to vote, once they get involved in something, they realize they can make a difference. Civics education builds agency in kids. They realize that as adults, they can vote, but they can also do much more than just that. They can be full participants in our democracy."
In February, Tia took part in a civics focus group held by the AFT's Educational Issues department. After contributing to the focus group, she was chosen to participate in the AFT Civics Design Team, a three-year national project to design civics professional development curricula for educators. Tia is one of only 12 teachers nationwide selected, joining colleagues from New York, Ohio, Texas, and Washington, D.C., among other states. She serves as the team leader for the secondary education cohort. 
"I'm proud that I'm representing a small local and putting our voice on a national platform with these districts that are large counties. We're in the research and goal-setting phase now, so we're looking at a lot of research, creating bibliographies, and planning out what we want our curriculum to accomplish," says Tia. "Professional development can often feel like a waste of time when teachers could be planning, reviewing student work, or preparing for class, so we want to make sure this curriculum is dynamic and useful. Recently, I took the AFT's 'train the trainers' session on social-emotional learning, and I can't wait to use the tools I learned in school this year. That's what we want to achieve with civics education."
The curriculum being developed by the Civics Design Team won't just be for social science teachers, but for any educator who wants to weave civics education into their teaching.
Tia opened a civics-focused general session for the AFT's TEACH conference in July, with Georgia political leader and voting rights activist Stacey Abrams and Harvard political scientist Danielle Allen. AFT President Randi Weingarten moderated this session. You can see Tia's remarks here.
"We want to give educators a level of comfort with civics content so they can do it justice," says Tia. "Civics education helps kids to think critically, and gets them excited for school. When they know they have a voice in the classroom, they're less passive and more passionate about learning.""We are so proud of Tia for being selected for this important work for our educators and students, and for representing AFT Amesbury so significantly," says AFT Amesbury President Cindy Yetman, who recommended Tia for the position. "AFT is lucky to have such a dedicated, talented professional as Tia on the civics design team."