AFT Massachusetts members and leaders from around the state joined students, educators, parents, and community leaders on December 18, 2018 at the State House to call on Governor Charlie Baker and the Legislature to end the generation-long underfunding of local public schools and public colleges and universities. Advocates called for a major $1.5 billion reinvestment in public education by May, so that local schools will see increased budgets in the upcoming school year and college students can avoid tuition hikes this fall.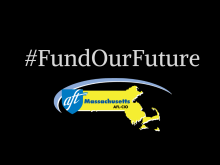 "For too long, Massachusetts has failed to adequately fund our local public schools and colleges, and as a result, many students, especially in our Gateway Cities, don't have equal opportunities for a well-rounded education," said
AFT Massachusetts President Beth Kontos
. "They don't have librarians or nurses. They don't have music or art classes. Their class sizes are too big, and their school's budgets are too small. It's time we hold our state leaders accountable for properly funding our schools."
The new Fund Our Future coalition called on the Legislature to meet the recommendations of the bipartisan Foundation Budget Review Commission and the Higher Education Finance Commission by increasing state funding for preK-12 schools by $1 billion a year and increasing state funding for public colleges and universities by more than $500 million a year. The coalition is made up of the following members: American Federation of Teachers Massachusetts, Boston Teachers Union, Citizens for Public Schools, FairTest, Massachusetts Education Justice Alliance, Massachusetts Jobs With Justice, Massachusetts Teachers Association, NAACP New England Area Conference, and PHENOM (Public Higher Education Network of Massachusetts).
"We're committed to doing what it takes to ensure that the state fully funds our schools, fixes the broken Foundation Budget, and makes our public colleges affordable again," said AFT Massachusetts Secretary-Treasurer Brant Duncan. "Over the next few months, we're going to be organizing, working with our community allies, and contacting legislators to let them know that our kids can't afford to wait—we need this funding now to repair the persistent education inequality in Massachusetts and give every student the resources they need to succeed."
The Foundation Budget Review Commission found in 2015 that the state is underfunding public education by at least $1 billion a year. The commission found that the state's funding formula fails to account for the cost of four specific items: educating students who have disabilities, are English learners, or are from low-income families; and managing the rising cost of health insurance for staff. Since 2002, annual K-12 funding from the state has been cut by $405 million. Nationally, Massachusetts ranks 33rd in the share of our state's economic resources dedicated to public education. As a result, many students aren't getting a well-rounded education including small classes, music and art, "science, technology, engineering, and math" (STEM) education, and public school staff including counselors, paraprofessionals, and librarians.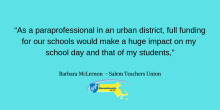 "As a paraprofessional in an urban district, full funding for our schools would make a huge impact on my school day and that of my students," said
Barbara McLernon, a paraprofessional at the Collins Middle School in Salem
. "To have enough staff to service scholars who need the extra support would heal my soul. To have technology in my hands that the students use, so I can help them access the learning happening in their classes, would be amazing. To have working landlines to call for help in a safety situation would give me confidence that someone will come if need be. To have pens, pencils, rulers, markers, and the other simple essentials many of my students can't afford to bring themselves would be a miracle. My heart is broken when I can't provide for these scholars because each one of them is mine in my heart."
"If my city schools were fully funded, all students would not have to go without vital resources as they do at home," said Kim Thompson, a Springfield paraprofessional. "How can our students believe they can succeed and be anything they want to be when we can't provide them with books to take home, individual workbooks, or even paper? Right now we are just an extension of their home, telling them 'sorry we can't afford to give you that."
The state's Higher Education Finance Commission found in 2014 that the state is underfunding our public colleges and universities by more than $500 million a year. Since 2001, state funding of public colleges and universities has declined dramatically, from $12,000 per student each year to only $8,000 per student. As a result, Massachusetts has the fastest-growing public college costs and the second-fastest growth in student debt in the nation. Massachusetts public college tuition and fees are among the highest in the country. Costs are being shifted onto students and families, who are forced to take on enormous debt to receive a degree. Today, the average UMass student is graduating with over $30,000 in student debt, and the average graduate of our state universities leaves school with over $25,000 in student debt. At the same time, full-time tenured faculty members are being replaced by part-time instructors who are paid much less, have no job security, and do not receive health insurance coverage.
"As a public school parent, I regularly have to donate money so my daughter's classroom can have basic supplies like tissues and markers. She's never been to the library at her middle school because there's no money for a librarian," said Ricardo Rosa, a parent in New Bedford and professor at UMass Dartmouth. "At UMass Dartmouth, we're dealing with extreme levels of food insecurity and homelessness. It's time for our state leaders to reinvest in our public education system from preK all the way through college. Our kids can't keep waiting, so we're going to put incredible pressure on the State House until our political leaders do what's right."