AFT Massachusetts is proud to represent school and municipal library employees across Massachusetts. This week, we are observing National Library Week (April 19 - 25, 2020), an annual celebration highlighting the valuable role libraries, librarians, and other library employees play in transforming lives and strengthening our communities.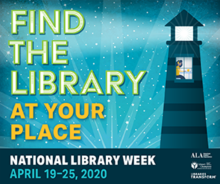 This year's National Library Week theme, 'Find the library at your place,' highlights how libraries are offering virtual services and digital content their communities need now more than ever. As the COVID-19 crisis changes the work of libraries and library workers, libraries are proving resourceful and resilient, serving as a rich pipeline for content, delivering access to ebooks, movies, music, video games, virtual storytimes and activities, and so much more.
"Librarians and library employees work hard every day to provide critical resources, programs, and expertise to people of all ages, and now is no exception. Today, our public libraries are playing an especially important role in supporting the education of children whose schools are closed," said AFT Massachusetts President Beth Kontos. "I'm constantly amazed by all the hard work happening to ensure that children, seniors, and others who depend on our public libraries are able to access research and learning resources at this time. It's a great reminder that public libraries are a vital community space for all of us. AFT Massachusetts is excited to recognize the valuable contributions librarians and library workers make every single day."
Here are a few ways you can celebrate National Library Week:
1. Visit your library online
While most libraries are physically closed due the current public health crisis, it's a great time to explore the many digital resources they provide. Most libraries offer access to audiobooks, e-books, music and movies. Many are finding ways to offer programs online, such as virtual storytimes, book clubs, and crafting sessions.
2. Follow your library on social media
Be sure to follow your library on social media so you don't miss out on all they have to offer, including information on expanded access to digital content and virtual programming.
3. Say #ThankYouLibraries on social media
Let library staff know that you appreciate their efforts by sharing some love about their virtual service. Post to Instagram, Twitter, or Facebook about an e-book, audiobook, virtual storytime or bookclub, or how your library has made a difference while you've been social distancing. Use the hashtag #ThankYouLibraries and tag your library.
In honor of National Library Week, we asked two Massachusetts library workers to describe the importance of public libraries, in their own words. Here are their voices:
"Libraries are community spaces that welcome everyone, not just certain individuals from certain groups. Libraries are a place to find your passion; a place of learning; a place for exposure to a variety of viewpoints; a place of growth; a place for reflection; and a place to connect with those the same as you and different than yourself. Library staff connect patrons, support patrons and help navigate everyday lives. We listen. Books are windows and/or mirrors for the reader and from an article I just read, 'books provide a safe space.' "
– Lori Salotto, Paralibrarian & Head of Technical Services/Children's Assistant, Middleboro Public Library
"Libraries have never been more important than they are today. We support literacy of all kinds, including computer literacy, media literacy, and good old-fashioned reading! Despite beliefs to the contrary, people are still reading regular books along with their e-books, and for those who don't have or can't afford devices or internet service at home, we are the bridge to economic equality. Today, you can't even apply for a job at a convenience store without taking an online personality test and providing an email address. We are critical in the lives of so many, and for those lucky enough to have those things at home, we are a social leveler – people of all ages, races, and economic circumstances walk freely through our doors every day. From story times to creative aging programs, we provide it all. We are the greatest bargain in education and social justice around!"
– Elisa Birdseye, President, Boston Public Library Professional Staff Association