Teachers Union Stresses Need for Ventilation Upgrades, Rapid Testing, Accessible Vaccinations, and Other Mitigation Strategies in Order to Reopen Safely, Rebuild Confidence in In-Person Learning
AFT Massachusetts released the following statement from AFT Massachusetts President Beth Kontos:
"The last year has been incredibly difficult for students, for educators, and for parents, but the light at the end of the tunnel is now in sight. With the state's vaccination campaign continuing to progress and the approval this week of a vaccine for children ages 12 and over, there is a clear pathway to full school reopening this fall. With a new administration in Washington, our school districts are finally receiving the resources they need to recover from the pandemic. However, we have major work to do to overcome a lingering lack of trust within communities hit hardest by COVID-19, and to ensure that full school reopening this fall is done safely and equitably.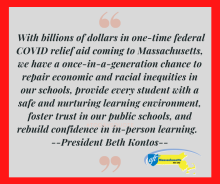 "Today, American Federation of Teachers (AFT) President Randi Weingarten 
announced
 our union's plan to safely reopen schools for all students in the next academic year. In order to help our students recover from the impacts of the pandemic, schools must be open in person this fall, five days a week and full-time. But national
research
 by the AFT finds that just 73 percent of parents — and only 59 percent of Black parents — say they are comfortable with in-person learning for their child this fall. Many parents, especially parents of color in low-income communities, have a well-justified lack of trust in local school systems. For years, their children have attended underfunded schools in outdated and unsafe buildings, and during the pandemic, they witnessed firsthand the failures of our state and nation to protect the safety of students and their families.
"With billions of dollars in one-time federal COVID relief aid coming to Massachusetts, we have a once-in-a-generation chance to repair economic and racial inequities in our schools, provide every student with a safe and nurturing learning environment, foster trust in our public schools, and rebuild confidence in in-person learning. The AFT's research shows that if the safety measures we support — upgraded ventilation, layered classroom mitigation strategies, rapid surveillance testing, and easily available vaccinations — are in place, the percentage of parents who are comfortable with in-person learning jumps to 94 percent, including 87 percent of Black parents.
"This summer, we need an all-hands-on-deck approach, supported by federal funding, to prepare our school buildings and systems for a safe reopening in the fall. In September, we need major investments to provide students with additional academic support through tutoring and smaller class sizes, as well as social-emotional support through counselors and other mental health professionals. We especially need additional support for students with special needs, English language learners, and other students who have struggled the most during the pandemic.
"We'll continue working collaboratively with school committees, parents, and students to overcome the obstacles to safely returning all students to our classrooms. Together, we can recover from the pandemic and reimagine our schools as safe, healthy learning environments that nurture the whole child, support their family, and provide equal opportunity for all students."