AFTVoices: Amesbury Professionals Participating in High-Quality Professional Development Thanks to New Contract, Support from AFT
A new partnership between AFT Amesbury, the Amesbury Public Schools, and AFT national is providing high-quality professional development for Amesbury paraprofessionals, fulfilling a goal of recent contract negotiations.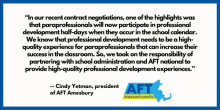 "In our recent contract negotiations, one of the highlights was that paraprofessionals will now participate in professional development half-days when they occur in the school calendar," says Cindy Yetman, president of AFT Amesbury Local #1033. "We know that professional development needs to be a high-quality experience for paraprofessionals that can increase their success in the classroom. So, we took on the responsibility of partnering with school administration and AFT national to provide high-quality professional development experiences."
AFT Amesbury worked with the AFT's Paraprofessionals & School-Related Personnel and Educational Issues departments to organize training for the district's first professional release day this year.
"We coordinated with the superintendent on what her strategic vision was for paraprofessional PD that tied into district goals for our staff and students," says President Yetman. "Our first workshop was a huge success. Paraprofessionals learned about student learning objectives and strategies they can immediately apply in their practice in order to achieve desired outcomes."
"Paras were extremely appreciative of the meaningful PD that was provided," says Amesbury paraprofessional Lauren Snay. "It went a long way in showing that the district is recognizing us as valuable professionals."
"I am thrilled to have the opportunity to provide meaningful and targeted professional development opportunities for our paraprofessional staff," says Amesbury Superintendent Elizabeth McAndrews. "During bargaining, President Cindy Yetman offered the resources of AFT to support this work, and I jumped at the chance. I am eagerly awaiting our next session and am very appreciative of AFT for supporting the professional growth of our paraprofessional staff."
Superintendent McAndrews shared that the first session was incredibly well received by Amesbury paraprofessionals, resulting in comments such as "I think this gave us all a chance to discuss what we do every day. It felt very validating" and "It allowed us to understand better how to help our students."
"Working collaboratively with the district and AFT to accomplish mutual goals in terms of raising the professionalism of our paraprofessionals is powerful and achievable," says President Yetman. "We look forward to our next workshop provided by the expert staff from AFT in October."