AFT Convention a Success!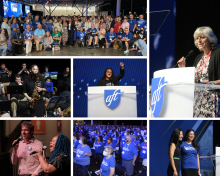 Pictured here are a number of the AFT Massachusetts members and friends at the 2022 AFT Convention in Boston.
The 1.7 million-member American Federation of Teachers wrapped its 87th biennial convention, with union delegates voting overwhelmingly to re-elect President Randi Weingarten, Secretary-Treasurer Fedrick Ingram, and Executive Vice President Evelyn DeJesus.
Over four packed days, 3,000 delegates debated and passed resolutions on a range of issues—from addressing the promise of public education, to advocating for living wages, to combating the effects of climate change, to tackling the student debt crisis.
Read More.
AFT Massachusetts Endorses Maura Healey for Governor of Massachusetts
"As the People's Lawyer, Maura has always stood up strong for Massachusetts students and educators. As our next Governor, she'll bring Massachusetts together to build an equitable recovery in our schools," said AFT Massachusetts President Beth Kontos. "As Governor, Maura will invest in the academic supports, wraparound services, and mental health resources our students need to recover from the effects of the pandemic. She's offering real solutions to close the opportunity gaps in our schools, and to make Massachusetts more affordable so that educators can afford to live and raise our families here. Maura Healey is the public school champion Massachusetts needs right now, and AFT Massachusetts is thrilled to endorse her as our next Governor."
"As the daughter of public school educators and union members, I'm honored to receive the endorsement of the American Federation of Teachers Massachusetts," said Maura Healey. "The work of our educators is foundational to the success of our children and our Commonwealth. In what has been a time of challenge, I look forward to supporting and working with AFT and its members to ensure that Massachusetts has a public education system that works for all students and families across this state."
Read More
.
AFT Massachusetts Endorses Tami Gouveia for Lieutenant Governor, Shannon Liss-Riordan for Attorney General, & Diana DiZoglio for Auditor
"These three strong and independent leaders will deliver for Massachusetts students, educators, and families," said AFT Massachusetts President Beth Kontos. "Along with our endorsed candidate for Governor, Maura Healey, AFT Massachusetts is proud to be endorsing a slate of proven women leaders who will make state government a true partner to our local schools as we work to recover from the effects of the pandemic."
"Over the next four years, we have a lot of work to do to help our students get back on track, fully implement the Student Opportunity Act to fund our schools, and make affordable, high-quality public college an option for every student in Massachusetts," said AFT Massachusetts Secretary-Treasurer Brant Duncan. "Tami, Shannon, and Diana are the champions we need fighting for students and educators on Beacon Hill." Read More.
#AFTVoices Member Spotlight Series
#AFTVoices is proud to present, Phil O'Connor!  This series aims to uplift the voices, members, staff and educators that make up AFT Massachusetts.
We chatted with Phil right before he flew across the world to embark on an epic adventure.
"Next week I will be climbing Denali, meeting and working alongside people I have never met before. To climb safely, you have to go as a team, as it is far more dangers to go alone. If the team is strong, we can get each other through anything. I apply this to organizing as well."
Read More.
Retirement Planning
The financial professionals of Teacher Retirement Solutions (TRS) have partnered with AFT Massachusetts and specialize in providing independent financial guidance, strategies and solutions to educators, school employees, librarians and their families throughout New England.  Join TRS' John Gregorio, a Certified Financial Planner, on August 10, 2022 via Zoom for a comprehensive workshop for prospective retirees. The Massachusetts' public employee retirement formula, Social Security and living in retirement will be among the topics discussed.  An automated email with the details of the Zoom meeting will be sent to members that complete the form to the right.
What:  Retirement Planning Workshop for AFT Members
Who:  Members of AFT Massachusetts
Where:  Online via Zoom
When: August 10, 2022 from 6 to 8 pm