As an AFT Massachusetts member, you know that we have more power when we join together through our union.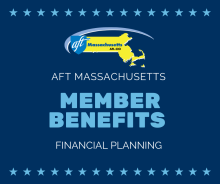 That collective power is how we win better salaries, benefits, and working conditions, but it's also how we can make a difference in every aspect of educators' lives. From engaging in political activity in the community, to developing our professional expertise in the classroom, to establishing benefits that go beyond the workplace, the AFT Massachusetts is a community of colleagues, and we're stronger when we join together.
Our benefits program brings you the collective purchasing power of AFT's 1,700,000 members and AFT Massachusetts' 23,000 members. With our union, you don't have to do it alone — on or off the job.
Members of AFT Massachusetts have access to experienced and dedicated financial planning professionals who will work with you every step of the way.  AFT Massachusetts partners with Teacher Retirement Solutions to provide retirement planning services for members.  Visit Teacher Retirement Solutions on the web or click here to learn more.

Financial Services* - Teacher Retirement Solutions, LLC Call 877.535.6470 or email info@teacherretirementsolutions.com for additional inforamtion.
Retirement Income Analysis and Pension Estimates (A, B, C)
Investments, TSA and 403(b) advice
Available to present workshops to AFT Massachusetts members
Independent, specialized, credentialed
Socially Responsible Investments are available
Social Security analysis
** Securities and advisory services offered through Commonwealth Financial Network, Member FINRA/SIPC, a Registered Investment Adviser. Teacher Retirement Solutions located at 100 Corporate Place, Suite 306, Peabody, MA 01960. 877-535-6470.