"We know where we're going when we know where we've been": Earn your Master's Degree in Labor Studies at UMass Amherst!
Members of AFT Massachusetts are building power across the education and library sectors and influencing labor organizing across the Commonwealth. As we look to the future, we are hungry to deepen our understanding of the labor movement we come from and how we can become better leaders for others. We are the backbone of our communities and have a responsibility to ourselves and others to use our collective power to make all our lives better. That's why we're glad to announce this historic opportunity to earn your Master's Degree in Labor Studies at the UMass Amherst College of Social and Behavioral Sciences.
Education worker unions are at the forefront of the labor movement, pushing for rights that all workers deserve. Across the country, unionized education workers are taking principled positions on issues that matter to entire communities, and they're fighting, and winning. Now is the time to develop the next generation of labor activists in education. We want you to be one.
This program is built for educators, by educators. The ULA for Educators, Union Leadership and Activism (ULA) program, makes the UMass Labor Studies program possible for those who work on a school-year schedule. Anyone with a Bachelor's Degree who works in preK through higher education is welcome and encouraged to apply to this track. The ULA(Ed) program is the only graduate program of its kind. UMass tailors the structure and the courses to give educators a deep understanding of Labor History with a direct focus on the education sector.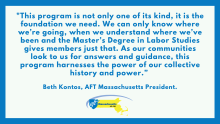 "This program is not only one of its kind, it is the foundation we need. We can only know where we're going, when we understand where we've been and the Master's Degree in Labor Studies gives members just that. As our communities look to us for answers and guidance, this program harnesses the power of our collective history and power." Beth Kontos, AFT Massachusetts President.
In addition to the ULA for Educators program, AFT Massachusetts is also offering a scholarship to those who apply. Member can expect:
$1k per member for 3 years ($3k total)

Qualifications: Must be an AFT Massachusetts member for 3+ consecutive years and be recommended by their president or executive board

Award: committee recommends recipients to Executive Board for approval
Click to learn more and see if this program is right for you!