Like so many others across America, AFT Massachusetts teachers and school support staff are putting aside their own fears during the COVID-19 pandemic to help maintain a sense of normalcy for their students. One big area of focus for AFT Massachusetts members is food security. Educators across the Commonwealth are working hard to ensure that students and their families have food during this crisis.
In Lowell, educators have focused on supporting the Merrimack Valley Food Bank (MVFB), which distributes food to 64,000 people each month through food pantries, shelters, schools, and senior centers.
The organization serves neighbors in over 30 cities and towns throughout Massachusetts and New Hampshire. With so many families dealing with job loss, home and food insecurities, the strain and continuous depletion of food supplies at MVFB created a need unlike any other since opening in 1991.
When word got around that neighborhood letter-carrier Dave Demers was putting a plan in action, City Councilor John Drinkwater made arrangements for Merrimack Valley Central Labor Council and United Teachers of Lowell President Paul Georges, along with United Way Coordinator, Tom Raiche, to connect with Demers and a partnership was formed: the National Association of Letter Carriers, the Merrimack Valley Building Trades, the United Teachers of Lowell, and IBEW#2321 Verizon Workers. Everyone joined forces to hold a food drive on Saturday, May 23rd.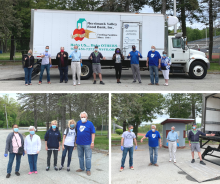 United Teachers of Lowell paraprofessionals Brenda King, Carolyn Demers, Ely Rivera, and Rose Bergeron, along with retiree Midge Farrell, rolled their sleeves up as they arrived at 9:00 a.m. to collect food from donators from all neighborhoods.
"This was a great opportunity to help where help is needed at this time in our lives," said Rose Bergeron. "It was nice to see many different unions working together as one. This is great that unions can help each other out during hard times and I'm thankful for the opportunity to help."
"It was great having different unions come together on a holiday weekend to give back to our community," concurred Brenda King. "We not only got a great amount of food but also lots of gift cards."
Middle School teacher Jeff Todd, who acted as director of traffic for incoming vehicles, could not speak highly enough about the generosity of so many Union members either volunteering to help or donating bundles of food. His single motivation was knowing how good it felt to be in such a position as to be able to serve those in need.
Adult Ed. Teacher Meg Chase works with many of the parents of Lowell Public Schools students and was excited to be of help at the food drive. "During the time that I was there, drop-offs were pretty consistent," she said. "I loved seeing the generosity of people coming together to help the community."
Lowell High School teacher Brigette Beauchesne remarked that it was great to find a way to help others in these times and viewed the experience as very positive and productive.
"It is so great to be a part of a combined union effort – we're so much stronger together," shared United Teachers of Lowell Elementary VP and second grade teacher Susan Uvanni. "It takes a 'village of union workers' to meet the needs of our community! When there is a need, the union answers."
Custodian Mike Sheehan, a frequent volunteer at events like this, has been a lifelong resident of Lowell and an active, proud union member for over 25 years. "The feeling of giving back to the community I love never gets old," he remarked.
One of the many members who loaded up a car with products to drop off at the event was second grade teacher Katie Page. Katie recalls how she and her colleagues worried about their "kiddos" more and more as each day of the closure passed. They would alert each other by text whenever a family was running out of food and work together to share products from their own pantries to pass out to families while at the school passing out work packets for students. While there, they observed one of the Food Bank trucks pull up with food supplies for families who were in need and they were struck by the gratitude on the families' faces. When the call came that UTL was a partner in this event, they all knew where they had to be on Saturday. As Katie described, whenever the call goes out, the UTL is always there to support those supporting our kids!
UTL President Paul Georges, who is also President of the Merrimack Valley Central Labor Council, was quick to get the word out to members to answer the call as we all were aware of the struggles related to food insecurity experienced by so many of our families as a result of the COVID-19 pandemic.
We were all surprised by a visit from US Senator Ed Markey who not only donated to the drive but also stayed for a couple of hours to help with the unpacking of donations from cars and vans. Sen. Markey enthusiastically thanked all donators for coming to the aid of those less fortunate.
As Paul Georges reiterated to all, "Many of our citizens have relied on food banks and the generosity and consideration of others in getting through this extremely difficult time. The neighbors at this event and all the Union volunteers are addressing a real need in our community to help alleviate some of the anxiety people deal with on a daily basis. I never cease to be amazed at the generosity of our members."