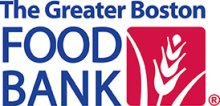 In Lawrence, members of the Lawrence Teachers Union (LTU) regularly volunteer with the
Greater Boston Food Bank's Mobile Market
in Lawrence to support their students and community.
"When LTU gave me the opportunity to volunteer at the Mobile Market I didn't hesitate. Everyone is struggling right now but I can't imagine how much worse it would be to try and manage my children if they were scared and hungry," said Kimberly Senko, a 4th & 5th grade Special Education Teacher at the John K. Tarbox Elementary School. "I am a teacher but I worry about more than my students' ability to read and write. My job requires me to partner with families to ensure students are safe, healthy, and they have the social emotional support they need to manage their emotions. Volunteering at the Mobile Market was one way to show families that Lawrence teachers are invested in the community and ready to support their children."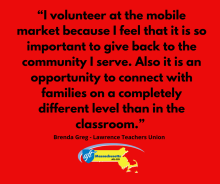 At the Mobile Market, located at the Greater Lawrence Family Health Center, clients can choose from a diverse selection of free fresh produce and dairy products, as well as frozen soup and high-protein items. Especially during the coronavirus crisis, when many Lawrence residents have lost jobs and income, families depend on the Mobile Market for healthy food.
"I volunteer at the mobile market because I feel that it is so important to give back to the community I serve. Also it is an opportunity to connect with families on a completely different level than in the classroom," said Brenda Gregg, a Special Education Teacher at the Rollins School. "It brings me such joy to see the smiling faces of students I recognize from the Lawrence community. Some blow kisses, smile, and wave, some even laugh with joy at recognizing their teacher! I always leave there with a smile on my face, and a sense of happiness that cannot be duplicated."
"I'm incredibly proud of the dedicated LTU members who are working to ensure that our students have healthy food during this time when schools are closed," said Lawrence Teachers Union President Kim Barry. "Lawrence educators are doing everything we can to ensure that our students and their families have healthy food during the COVID-19 pandemic, because we know that hungry students cannot focus on learning."