At the 2019 AFT Massachusetts Convention, President Beth Kontos and Secretary-Treasurer Brant Duncan announced the winners of the union's 2019 Distinguished Service Awards.
The Distinguished Service Awards are presented annually to AFT Massachusetts members who have demonstrated an outstanding level of service and dedication to their local union. Here are this year's winners: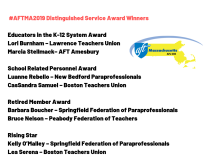 Educators in the K-12 System
Lori Burnham, Lawrence Teachers Union. A grades 1-4 teacher at the Gerald Guilmette Elementary School in Lawrence and Vice President of the Lawrence Teachers Union executive board, Lori is active is almost every aspect of the LTU's organizing and operation. In the words of her colleagues, Lori "is a team player who is always willing to give her all, in support of our union. Whether it be to assist an individual member in need or to serve as a member of a committee or to lead a union initiative, Lori is the person who we turn to – knowing she will get the job done. She serves as our eyes, ears, and voice." Congratulations Lori!
Marcia Stellmach, AFT Amesbury. Marcia retires this year from the Amesbury Public Schools with 35 years of dedicated professional service educating grade K, 1, and 2 students and 18 years of service on the AFT Amesbury executive board. In the words of her colleagues, Marcia "solves problems at the building level. She is a skillful negotiator and mediator. She is highly regarded by administration and colleagues within the district. Marica leads by example and consistently demonstrates she has the student's best interests at heart in her classroom and through her leadership roles in the union." Congratulations Marcia!
School Related Personnel
Luanne Rebello, New Bedford Federation of Paraprofessionals. Luanne is a dedicated paraprofessional at the Casimir Pulaski School in New Bedford, and has served as Vice President, Secretary, and on a variety of committees for the New Bedford Federation of Paraprofessionals. In the words of her colleagues, Luanne "can always be counted on to lend a hand in helping the union whenever needed. Her continuing service and hard work in dealing with contractual issues and concerns within the school have resulted in creative problem-solving and improved working conditions. She has been a strong leader and role model in tough times and is unafraid to stand up for what is right." Congratulations Luanne!
CasSandra Samuel, Boston Teachers Union. A library paraprofessional at the Curley K-8 School in Boston, CaSandra has been an active BTU member for 22 years and has served on the negotiating team, the executive board, and the Para Council. In the words of her colleagues, CaSandra "has played a critical role in a variety of capacities, always with a smile on her face. She is someone who always steps up and is the first to volunteer for events. As a former building rep, she continues to help with union demonstrations at her school and the current reps see her as a constant support and advisor. She is a leader who helps to develop and support other leaders and truly understands the meaning of building union power." Congratulations CasSandra!
Retired Member
Barbara Boucher, Springfield Federation of Paraprofessionals. After 40 years of service to the students of Springfield, Barbara retired from the Springfield Public Schools last June, but she has not retired from her service to the Springfield Federation of Paraprofessionals, where she has served on the Executive Board, and as 1st and 2nd Vice President. In the words of her colleagues, Barbara "has been instrumental in the advancement of union activities and members. In her current role as Chairperson of the Social Committee, Barbara continues to reach out to our members in need, offering encouragement and support. She loves to send greeting cards to our members and always add a lovely written note." Congratulaions Barbara!
Bruce Nelson, Peabody Federation of Teachers. Over the course of the last 45 years, Bruce has served in many capacities in the Peabody Public Schools, distinguishing himself as a teacher, union officer, and most importantly, a true leader. Soon after Bruce's retirement from the classroom in 2004, he was called upon and assumed the role of PFT President after the previous president unexpectedly resigned to enter school administration. Through Bruce's leadership, the local blossomed and grew, eventually reaching its highest percentage of membership. In the words of his colleagues, Bruce "has done innumerable things to benefit the teachers and paraprofessionals of Peabody. As he prepares to depart from his role as President, he will be leaving the PFT in excellent shape and prepared to continue his legacy." Congratulations Bruce!
Rising Star
Kelly O'Malley, Springfield Federation of Paraprofessionals. Kelly has been an active member of the Springfield Federation of Paraprofessionals from the time of her initiation in 2014. She serves as the Building Representative at Indian Orchard Elementary School and is a member of the union's professional development team, where she serves as a trainer on the topic of mindfulness and an instructor on the topics of gamification and active listening. In the words of her colleagues, "Kelly has the energy and vision that define a natural leader. This year she became a member of the Member Organizing Institute and is organizing our newly formed Para-Parent Committee." Congratulations Kelly!
Lea Serena, Boston Teachers Union. A Boston Public Schools graduate who teaches at the elementary school she attended as a young student, Lea is a Building Representative and a Building Rep. Regional Leader, and serves on the BTU's master contract negotiating team, putting in long hours to engage with members to deeply understand their experiences and priorities, and to fight at the bargaining table for our shared priorities to improve teaching and leading conditions. In the words of her colleagues, "even as a provisional teacher, Lea would consistently step up to bat for the educators in her school, despite retaliation from her principal. This only furthered her resolve to be a committed activist in the union. Her commitment, consistency, energy, work ethic, and positivity are unparalleled." Congratulations Lea!

And congratulations to all the recipients of the 2019 Distinguished Service Awards!