Coming off of a major victory for K-12 students in Massachusetts with the passage of the Student Opportunity Act, education advocates including AFT Massachusetts are calling on legislators to make major investments in the public colleges and universities that will educate the majority of those students after they graduate high school. State funding of public colleges and universities has declined dramatically over the past two decades, leaving the Commonwealth's public colleges and universities deeply underfunded and increasingly unaffordable.
"Between adjunct professors being cut, programs being eliminated, and the cost of school becoming almost impossible to afford, college has become an impossibility for so many people. And for those who stick it out and struggle through, it has become a nightmare. I work three jobs to afford school, and I call myself a typical college student because every other student I know works around 35 to 40 hours a week. We are working to afford college, but if we don't go, we'll risk struggling the rest of our lives," said Meghan DeVeau, a Salem State University sophomore. "Last year, I had the pain of watching more than fifteen people I knew drop out of college or 'take a semester off' that has turned into two. The cost of college for students has made the question arise: 'Is this worth it? Is the debt, the struggles, the frustration, worth it?' It breaks my heart to see bright young minds who don't have the financial support of the state fizzle out."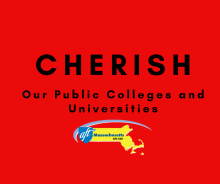 At a press conference in the State House, students, educators, and other members of the Fund Our Future campaign called for a $120 million reinvestment in the Commonwealth's public colleges and universities, and a freeze on tuition and fees at public campuses, in the FY2021 budget. They outlined several specific areas where immediate investment is sorely needed, from expanding financial aid and debt relief programs for students with the greatest needs, to supporting adjunct faculty so they can better serve students.
"Massachusetts community colleges are pursuing the rampant expansion of early college programs, hoping to increase educational opportunities for disadvantaged student populations. But the Board of Higher Ed has put much of the burden on the backs of exploited adjunct faculty, who make up approximately 70 percent of community college instructors," said DeAnna Putnam, an adjunct professor at Bunker Hill Community College and Middlesex Community College and Secretary of the Massachusetts Community College Council. "The BHE won't even provide health insurance, never mind decent wages and job security for these adjunct faculty members, who are now teaching early college students in addition to regularly enrolled college students."
Since last year, the Fund Our Future campaign has been pushing for passage of the Cherish Act, which would increase state per-student funding for public higher education back to 2001 levels over five years, an increase of $600 million, and freeze tuition and fees at public campuses every year that state funding targets are met. As that push continues, advocates are proposing that the FY21 budget include at least the additional $120 million for public higher education that the first year of the Cherish Act would provide. 
"We won a huge victory for public school students across Massachusetts with the Student Opportunity Act, but students from schools that will finally be well-funded are still slated to move on to public colleges and universities that are deeply underfunded. Students are being asked to borrow more and more to attend schools that are cutting the programs and services students need," said AFT Massachusetts President Beth Kontos. "AFT Massachusetts, along with our partners in the Fund Our Future campaign, are committed to giving every student in Massachusetts access to great public schools from preK through college. Passing the Cherish Act, and starting to reinvest in our public colleges in this year's budget, is the next step in that campaign."
Specifically, the Fund Our Future campaign proposes:
Making sure that the MassGrant Plus scholarship program covers the full unmet need for the lowest-income students by making the first installment of five toward ultimately covering all public college and university students. FY2021 cost: $20 million.
Providing debt relief to all public college and university graduates who go to work in MA public schools, with a focus on the school districts with the greatest need. FY2021 cost: $6 million.
Providing health insurance and pay equity for all adjunct faculty and staff. FY2021 cost: $13 million for health insurance, $7 million for pay equity.
Relieve the burden of existing capital debt with the requirement that the savings be invested in hiring full-time faculty and staff and investing in other student success programs. FY2021 cost: $15 million.
Funding state college and university operating budgets at levels sufficient to freeze tuition and fees, as UMass has already proposed. FY2021 cost: $64 million.
At the State House, public college students, alumni, and educators shared stories of how the underfunding of our public higher education system has affected them.
"I graduated from UMass Amherst in 2017 with a master's degree, four teaching certifications, two bachelor's degrees, and $100,000 in debt. Because of that debt, I had to turn down teaching jobs in districts where either pay was too low or housing costs were too high," said Tyler Ramsay, a 6th grade English language arts teacher in Pittsfield. "Before finding a job in Pittsfield, I barely made ends meet working as a substitute teacher and at a technology store. Graduates of Massachusetts' public colleges, especially those of us who go into public service careers, should be able to graduate without being burdened by huge amounts of debt."
"In addition to being a student and parent, I am a worker that has experienced the underfunded system that we live in first-hand. It seems that no matter how hard I work to support my children for a better life, the system is not always on our side. The cost of college has shifted from the state to students and families, which is why we have student loan debt," said Izabel Depina, a student at UMass Boston and parent of two children, ages 19 and 12. "I have $60,000 of student loan debt, and since my son Lenell is a first-year college student, I have to have conversations with him about the cost of college. Because of my experience with student loan debt, I am worried for my children to go on to higher ed and to have debt like I have."
"About a decade ago, Salem State made significant changes to help our students graduate on time. The six-year graduation rate on our campus increased from 40% to 58% as a result. The gains are the result of important curricular changes, all high-impact practices requiring a dedicated faculty and staff," said Joanna Gonsalves, a Professor of Psychology at Salem State University. "Due to less state support and increasing costs being shifted onto our books, this past year Salem State significantly downsized the number of employees on campus. This loss now jeopardizes the gains we have made in the graduation rate for our students. Fewer classes offered, higher class size, longer waits for counselling services, and less faculty and staff to work with our students is the result of the state's de-investment in our campus."
Background
After months of aggressive campaigning by the Fund Our Future campaign, the Student Opportunity Act, which commits the state to increasing annual K-12 education funding by $1.5 billion over inflation over a seven-year phase-in, was signed into law on November 26. The legislation updates and modernizes the state's foundation budget formula for school spending, provides millions of dollars more for the highest-poverty districts whose students have the greatest needs, expands the state's special education reimbursement program (circuit breaker) to include out-of-district transportation funding, and increases the annual spending cap for Massachusetts School Building Authority (MSBA) projects. The primary beneficiaries of the law, the most significant update of the state's education funding system since 1993, will be low-income students, students of color and English learners who have been left behind for years by the old, outdated school funding system. The Fund Our Future campaign will continue to monitor the implementation of the Student Opportunity Act over the coming years.
While the Student Opportunity Act addresses the underfunding of K-12 schools in Massachusetts, sixty percent of public high school graduates who go on to college enroll in state colleges and stay in Massachusetts after graduation. The graduates of our high schools are still entering public colleges and universities that are deeply underfunded and increasingly unaffordable. In 2014, the state's Higher Education Finance Commission found that Massachusetts is underfunding our public colleges and universities by more than $500 million a year in inflation-adjusted dollars. Since 2001, state funding of public colleges and universities has declined dramatically, from $12,000 per student each year to only $8,000 per student.
As a result, Massachusetts has the fastest-growing public college costs and the second-fastest growth in student debt in the nation. Tuition and fees at Massachusetts' public colleges and universities are among the highest in the country. Costs are being shifted onto students and families, who are forced to take on enormous debt. Today, the average UMass student is graduating with over $30,000 in student debt, and the average graduate of our state universities leaves school with over $25,000 in student debt. Public college students are going hungry and experiencing homelessness on campus, or dropping out due to the burden of student debt.
At the same time, full-time tenured faculty members are being replaced by part-time instructors who are paid much less, have no job security, and often do not receive health insurance coverage, forcing them to teach classes on multiple campuses and hurting their ability to serve students. Buildings are crumbling after years of disrepair as campus budgets fail to make up for the state's disinvestment. We need to reinvest in our public colleges and universities to reclaim what we once had: a high-quality public higher education system where all students can graduate without debt.