The Fund Our Future coalition was formed to end the generation-long underfunding of local public schools and public colleges and universities in Massachusetts and is made up of the following members: American Federation of Teachers Massachusetts, Boston Teachers Union, Citizens for Public Schools, FairTest, Massachusetts Education Justice Alliance, Massachusetts Jobs With Justice, Massachusetts Teachers Association, NAACP New England Area Conference, PHENOM — the Public Higher Education Network of Massachusetts, and SEIU Local 888. The coalition is calling on the Legislature to meet the recommendations of the state's bipartisan Foundation Budget Review Commission and the Higher Education Finance Commission by increasing state funding for preK-12 public schools by $1 billion a year and increasing state funding for public colleges and universities by more than $500 million a year. Advocates are calling for this major reinvestment in public education to happen in time for local communities to include the funding in the next academic year's budget and in time for public college students to avoid tuition and fee hikes this fall.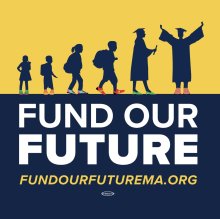 The Foundation Budget Review Commission 
found
 in 2015 that the state is underfunding public education by at least $1 billion a year. The commission found that the state's funding formula fails to account for the cost of four specific items: educating students who have disabilities, are English learners, or are from low-income families, and managing the rising cost of health insurance for staff. Since 2002, annual K-12 funding from the state has been cut by $405 million in inflation-adjusted dollars. Nationally, Massachusetts 
ranks
 33rd in the share of our states' economic resources dedicated to public education. As a result, many students aren't getting a well-rounded education including small classes, music and art, science, technology, engineering, and math education, and public school staff including counselors, paraprofessionals, special education teachers and librarians.
The state's Higher Education Finance Commission found in 2014 that the state is underfunding our public colleges and universities by more than $500 million a year in inflation-adjusted dollars. Since 2001, state funding of public colleges and universities has declined dramatically, from $12,000 per student each year to only $8,000 per student. As a result, Massachusetts has the fastest-growing public college costs and the second-fastest growth in student debt in the nation. Tuition and fees at Massachusetts' public colleges and universities are among the highest in the country. Costs are being shifted onto students and families, who are forced to take on enormous debt. Today, the average UMass student is graduating with over $30,000 in student debt, and the average graduate of our state universities leaves school with over $25,000 in student debt. At the same time, full-time tenured faculty members are being replaced by part-time instructors who are paid much less, have no job security, and often do not receive health insurance coverage.