Scholarships for AFT Families
The AFT Massachusetts, the Massachusetts AFL-CIO and unions across the Commonwealth are dedicated to teaching the next generation of trade unionists to build a bright future for the working class. Part of envisioning our future is learning about our rich history.
Every year AFT Massachusetts awards thousands of dollars in scholarships to eligible high school seniors who are dependents of AFT Massachusetts members. The awards, named in honor of former AFT leaders Kathy Kelley, Albert Shanker and Sandra Feldman, and for long-time AFT Massachusetts field representative Jay Porter, are awarded on the basis of a labor history exam administered by the Massachusetts AFL-CIO. 
For students taking the labor history exam, you are not just learning about the history of unions and about groups of people who wanted better wages. You are learning about the history of working people, just like you and your families, who fight for justice and equality. As you engage with these resources, remember that you will inevitably be part of this story, too, and it's up to you what role you will play.
 
"At a time of active union organizing across the country, it's important for young people to understand the role labor unions have played in our state and country's history," said AFT Massachusetts President Beth Kontos. "AFT Massachusetts is proud to offer these college scholarships to students who are part of our union family."
 
Program Eligibility and Application
To be considered for a scholarship a high school senior must be an AFT Massachusetts member or the dependent of an AFT Massachusetts member. The student must also be planning to attend a college or other post-secondary school in the fall of the following academic year.
All applicants must apply online by visiting here. The deadline to register is Friday, December 22, 2023. All study materials including the study guide, flash cards, and practice quizzes are available at www.learnlaborhistory.com.
The scholarship exam will be administered online between Monday, February 5, 2024, and Friday, February 9, 2024. All students will take the test in-person at their high school. The exam proctor at each school will determine a testing date/time that is within the timeframe provided. Students can get further information by speaking with their school's guidance department.
Congratulations to our 2023 Labor Scholarship Award Recipients: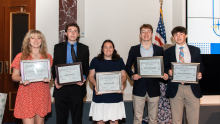 Kathleen A. Kelley Scholarship Award
Shalyn Medailleu, Essex North Shore Agricultural & Technical School
Albert Shanker Scholarship Award
John Cavanaugh, Norwood High School  - Ethan Cliff,  Billerica Memorial High School - Devan Hernandez, Phillips Academy -  Samantha Kimball, Amesbury High School - Madison Reilly, Bishop Fenwick High School
Sandra Feldman Scholarship Award 
Declan Hocker, Archbishop Williams -  Lily McDonough, Malden Catholic
Jay Porter Scholarship Award 
Ronan Dowd, Chelmsford High School