After months of complex negotiations, the New Bedford Federation of Paraprofessionals has reached an agreement with the New Bedford Public Schools on a contract that will deliver significant pay increases and benefits for our members, who have spent years doing essential work for poverty wages.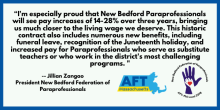 Jillian Zangao, President New Bedford Federation of Paraprofessionals, on the agreement reached with the New Bedford School Committee - May 2023.
"I'm especially proud that New Bedford Paraprofessionals will see pay increases of 14-28% over three years, bringing us much closer to the living wage we deserve. This historic contract also includes numerous new benefits, including funeral leave, recognition of the Juneteenth holiday, and increased pay for Paraprofessionals who serve as substitute teachers or who work in the district's most challenging programs. Finally, the contract also includes annual retention bonuses and longevity payments that we hope will help retain more paraprofessionals and help alleviate the staffing shortages that our schools currently face.
Thank you to all of the New Bedford Paraprofessionals and their families who spent months advocating for this strong contract, and to all the educators and community members who joined us in calling for a much-needed raise that recognizes the difficult and important work we do every day. This contract is a victory for Paraprofessionals, a victory for our students, and a victory for all of New Bedford."