Through nine distinct galleries, Beyond King Tut: The Immersive Experience unlocks the 3,300-year-old story of King Tut in an evolution of immersive show experiences!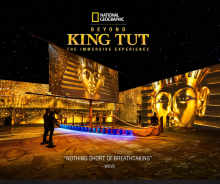 Journey to modern-day Egypt and see wonders of the ancient world like the Temple at Karnak and the Great Sphinx. Experience ancient history come to life and gaze at the Egyptian sun as it rises above the Pyramids of Giza, filling the sky with vivid color. Travel back in time 3,000 years to the 18th dynasty when King Tut ruled and gods like Ra and Anubis were worshiped by all.
Descend into King Tut's tomb, 100 years since its historic discovery, and join King Tut in his quest for immortality. Experience all of this and more at Beyond King Tut: The Immersive Experience, a story over 3,000 years in the making.
Take advantage of this exclusive AFT member discount for 40% off on weekdays and 20% off on weekends! Please visit BeyondKingTut.com/city/Boston for more information. National Geographic's Beyond King Tut: The Immersive Experience is currently open at the SoWa Power Station from now until October 2nd, 2022.
Save 40% Monday-Thursday PROMO CODE AFTWKDY
Save 20% Friday-Sunday PROMO CODE AFTWKND