As a Salem Public Schools graduate, as a student at UMASS Dartmouth, and during her years of community organizing on issues including the No on Question 2 ballot campaign, the fight for a $15 minimum wage, and COVID response efforts, Anabel Santiago has spent her life learning and working around AFT Massachusetts members. Now, as an AFT Massachusetts Organizer, she's working with locals across the state, bringing her comprehensive community organizing experience to bear on the issues our members care about.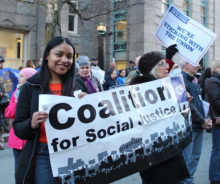 Working primarily with the Springfield Federation of Paraprofessionals, Anabel spends her time supporting the local in their fight for a living wage organizing the local's contract action team, holding one-on-ones with paraprofessionals, planning trainings and activities to increase union membership engagement, and working with them to build out a calendar of actions to pressure the local school committee. After a well-attended forum on Valentine's Day that garnered significant media coverage, she is working with Springfield paras to plan a March 17 rally, during a rare opportunity for public comment at a Springfield School Committee meeting.
"As members of the School Committee are walking in, we'll be rallying outside, and organizing testimony from paras and community supporters," says Anabel.
Anabel is also working with UMASS Dartmouth Unions United building out a contract action team currently focused on a legislative campaign: the local has a contract but needs to ensure it is funded through the state budget process. Across these campaigns, Anabel brings a wealth of experience and deep relationships with community allies across the state.
"Working with Anabel has been great, especially her work engaging with the community about the School Committee's refusal to provide paraprofessionals with the wage increase they deserve," said Cathy Mastronardi, President of the Springfield Federation of Paraprofessionals. "We've seen her work firsthand – bringing her community organizing experience and passion for the issues most important to our members – and we look forward to our invaluable contributions at this critical time."
Being at AFT Massachusetts is full circle for Anabel, reuniting her with one of her favorite high school teachers, AFT Massachusetts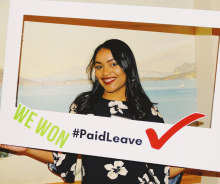 President Beth Kontos. At Salem High, Anabel took Beth's 'Street Law' class, which incorporated civics, history, law, and current events, including a memorable field trip to the Middleton Jail during a unit on criminal justice.
"I remember her being one of the teachers that was able to connect with students the most," says Anabel. "She was real, she was herself; she wasn't trying to fake it. Every student wanted to have her as a teacher."
After graduating from Salem High in 2014, Anabel attended Bristol Community College, where she initially majored in business administration. It was there that she took a sociology class with Professor Dan Gilbarg, a longtime activist and co-founder of the Coalition for Social Justice (CSJ).
Through CSJ, Anabel was recruited to work on the No on Question 2 ballot campaign, going door-to-door as a canvasser in New Bedford to talk to residents about the negative effects that unrestricted charter school expansion would have on local public schools. 
"Question 2 was the first time that I really started to see, hear, and think about campaign advertisements," says Anabel. "Having come out of the public school system, I knew that funneling money to charter schools that are selective about their students would hurt the public schools that are serving everyone else."
"During the Question 2 campaign, I saw how possible it was to move people when you have a real conversation," she continued. "It felt so great to work on a campaign where I was part of something bigger than me. That experience completely changed everything for me. I hadn't known that this kind of work was possible. I thought, no matter what I do in life I want to be involved in the movement."
After six months volunteering with CSJ, the organization hired Anabel as a Grassroots Coordinator. One of her first projects was working with and organizing house parties for Southeast Massachusetts educators to inoculate and educate them on the Fair Share Amendment, which was set to be on the ballot the next year. 
After transferring to UMass Dartmouth for her junior year of college, she shifted her major to economics, and continued working at CSJ through her two years at UMass Dartmouth and for two years after graduating in 2019.
At CSJ, Anabel was an integral part of the Raise Up Massachusetts Coalition's successful campaigns to raise the minimum wage to $15 an hour and pass Paid Family & Medical Leave. Working with coalition partners including AFT Massachusetts, Anabel organized Southeast Massachusetts for the coalition and played a major role in the coalition's successful signature collection drives and legislative campaigns. She also worked on electoral campaigns for CSJ including the Yes on 3 ballot campaign to protect transgender civil rights in Massachusetts.
"It has been wonderful to watch Anabel go from being a student to an activist fighting for education equity and other issues facing families and educators across the state," said AFT Massachusetts President Beth Kontos. "Anabel has been a part of a number of coalitions and campaigns that the AFT Massachusetts has played a critical role in and I've enjoyed connecting with her as our paths have crossed over the years. Her dedication to fighting for justice and on behalf of families throughout Massachusetts is admirable. The AFT Massachusetts and those on the ground she is working with are fortunate to have an organizer as determined and skilled as Anabel."
In late 2020, Anabel joined the Massachusetts COVID-19 Response Alliance (MCRA), a coalition of community and labor organizations including AFT Massachusetts, to lead their organizing work around a series of recommendations for the state's COVID-19 response effort related to childcare, housing, and education.
"Having seen what educators were going through in the early days of the pandemic, it's jarring to see that now they're still going through many of the same issues," says Anabel. 
After her work at the MCRA, Anabel worked as the Lead Organizer with the Brockton Interfaith Community, organizing community members and faith leaders to call out and shift the power dynamics in the City of Brockton, before joining AFT Massachusetts in November 2021. Having worked as a community and faith-based organizer, and now as a labor organizer, she sees the power of unions in the workplace.
"I'm seeing how powerful it is to organize in the workplace," says Anabel. "The difference in this type of organizing is that it is crystal clear what people's stake is in our fights and it makes them unafraid to challenge decisionmakers and demand what they deserve. It's really exciting that AFT Massachusetts is pushing and supporting locals to do more organizing, and to be proactive rather than reactive."
Outside of work, Anabel continues to be deeply involved in her local community of Brockton, serving as a board member for Brockton Interfaith Community, Board President of CSJ, and board member for the national group Family Values at Work. After so much time spent learning and working alongside AFT Massachusetts members, Anabel feels at home working in the education justice movement.
"Working in education is important to me. I've seen the difference that educators can make in a young person's life," she says. "Educators can plant a seed with our youth and support them in growing into who they're going to be in the world. We can inspire them to make change, leading by example."