In November, Massachusetts voters passed the Fair Share Amendment, generating a permanent revenue source for investment in transportation and public education. Now, a statewide public higher education coalition is emerging to advocate that a significant portion of the funds generated from the Fair Share Amendment be invested in an affordable, high-quality public higher education system.
 
This month, the AFT Massachusetts Executive Board voted to support the Higher Ed for All campaign.
 
"With the passage of the Fair Share Amendment, Massachusetts has an opportunity to build a public higher education system that lives up to our values and prepares Massachusetts students to be active, engaged participants in their communities, the workforce, and our society," said AFT Massachusetts President Beth Kontos. "Students today are struggling with the cost of college and a lack of adequate support services, while adjunct educators struggle with low pay and limited benefits. Our public college campuses have insufficient funding to address crumbling buildings, rising student needs, and staffing shortages. We're pleased to support the Higher Ed for All campaign to reverse the budget cuts that have occurred over the past several decades, and begin rebuilding a truly public state college and university system."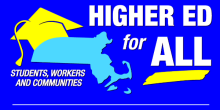 Higher Ed For All is advocating for fully funded community colleges, state universities and UMass campuses and proposes the following actions to knock down the barriers that too many potential college graduates encounter – and to create a public higher education system that demonstrates its respect for workers by providing fair wages and working conditions.
Implement a debt-free college plan that covers not just tuition and fees but also living expenses, including food and housing.
Expand existing programs that support student success and address staffing shortages.
Promote the recruitment and retention of high-quality and experienced faculty and staff – and make it possible for them to meet the needs of their students, particularly those who face the most significant challenges.
Return to the historic model of public funding for public buildings on college and  university campuses and include faculty and staff when assessing campus needs.
Educators and staff at UMass Dartmouth, who have been advocating for greater state investment in Massachusetts' public colleges for several years, are taking an active role in the Higher Ed For All campaign.
"As we move away from the worst of the COVID pandemic, the impacts of over a year away from the classroom are becoming more and more evident," said Grant O'Rielly, President of the UMass Faculty Federation. "The absence of social contacts with their friends and peers, as well as missing frequent and meaningful interactions with teachers in their classes, have left students ill-prepared as they have returned to in-person learning. This is particularly true in colleges and universities where the need for support services in mental health counseling as well as quality academic tutoring (not just "homework help sessions") has increased significantly."
 
"Additional resources are needed in each of these areas on campus to help ensure students can succeed in their classes and to allow college and university faculty to prepare students for success in the workforce after graduation," he continued.
 
A study last year from the Hildreth Institute, a local higher education policy think tank, found that tuition and fees at the state's public colleges and universities have increased at one of the fastest rates in the nation, drastically exceeding family incomes. Since 2000, median family income in Massachusetts has risen only 13%, but even after adjusting for inflation, tuition and fees at Umass Dartmouth have increased by 57% – a $6,205 price hike. That's the second largest hike in the UMass system (behind UMass Lowell at 59.6%).
 
At the same time as public college has become less affordable, campus budgets have failed to keep up with inflation, leading to cuts for programs students depend on. According to the Massachusetts Budget and Policy Center, per-student funding to public college campuses declined by $2,470 from 2011 to 2020.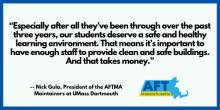 "Especially after all they've been through over the past three years, our students deserve a safe and healthy learning environment," said Nick Gula, President of the AFTMA Maintainers at UMass Dartmouth. "That means it's important to have enough staff to provide clean and safe buildings. And that takes money."
 
Learn more about the Higher Ed for All campaign here.
Legislative priorities:
An Act to guarantee debt-free public higher education. 
Sponsors: Senator Jamie Eldridge (D-Acton) and Representative Natalie Higgins (D-Leominister) 
Establishes that it is state policy to guarantee free public higher education as a right for all students. Creates a grant program to pay the equivalent of tuition and mandatory fees to an eligible student at any Massachusetts public college or university. 
An Act committing to higher education the resources to insure a strong and healthy public higher education system 
Sponsors: Senator Jo Comerford (D-Amherst) and Representative Sean Garballey (D-Arlington) 
"CHERISH Act" creates a framework for adequate public higher education funding levels, including expanded support for student services; ensures debt-free public higher education for all; improves wages and working conditions for faculty and staff, including benefits for adjunct faculty and part time staff; and invests in green and healthy public college and university buildings.
January 2023