Beth is the President of AFT Massachusetts. She was first elected to the position in 2018. Before becoming President, Beth served as one of the union's Vice Presidents from 2014 to 2018.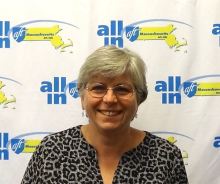 As President, Beth is leading the fight to fully fund our public schools, libraries, and higher education systems, eliminate high-stakes standardized testing, and push the profiteers out of our public schools. She leads the union's work on the Fund Our Future campaign to increase state funding for our public schools by $1.5 billion a year, and supports AFT locals as they build their collective power to win better working and learning conditions for educators and students.
After 20 years working for Verizon as a telephone operator, computer technician, computer programmer, and software technical support agent, Beth left to become a history teacher in 2004. After a year at Lynn Classical High School, she spent 14 years at Salem High School, where she taught US History, Street Law, and American Government, and co-taught English language and history to recent immigrant students.
Beth is a past Vice President and President of the Salem Teachers Union and an executive board member of the North Shore Labor Council. As a leader in the Massachusetts labor movement, she serves as a Vice President of the Massachusetts AFL-CIO and on the steering committees of the Massachusetts Education Justice Alliance and the Raise Up Massachusetts coalition.
Beth has a Bachelors Degree in History and Spanish and a Masters in History from Salem State University. She lives in Danvers, MA.