A Message from President Beth Kontos
The new year is bringing important changes to the educational landscape in Massachusetts, and I'm excited about the opportunities ahead of us.
This month, I was delighted to attend the Inauguration of Governor Maura Healey, after serving as a member of her transition team's Thriving Youth & Young Adults Committee. This was an important opportunity to share our recommendations for education policy, board assignments, budget priorities, and more. I appreciated the chance to discuss our shared priorities, from improving mental health and wraparound services to students, to raising pay for educators (especially our underpaid paras), to making early education and public higher education more affordable.
I'm especially delighted by Governor Healey and Lt. Governor Driscoll's choice of Dr. Patrick Tutwiler as Secretary of Education. AFT Massachusetts members have worked alongside Dr. Patrick Tutwiler for many years, first as a teacher in the Boston Public Schools, and then in Lynn where he served as superintendent. Dr. Tutwiler is a professional educator of the highest caliber who puts students and families first, while also respecting dedicated educators in the classroom.
Along with the new gubernatorial administration comes a new legislative session, which means the introduction of numerous education- and labor-related bills.
One of the most important is the
Thrive Act
, which would replace the state's failed approach to educational assessment and improvement, including the undemocratic state takeover system and the MCAS-based graduation requirement, with policies that will help all students to succeed and thrive. The Thrive Act would establish a modified graduation requirement based on coursework rather than high-stakes standardized testing, and implement a new 'comprehensive support and improvement' system designed to empower local communities to give students the tools and resources they need to succeed. Learn more
here
, and stay tuned for ways to get involved in the major push to pass this critical bill.
Other legislative priorities include:
An Act to guarantee debt-free public higher education, which would establish a right to free public higher education for all students, and create a grant program to pay the equivalent of tuition and mandatory fees to an eligible student at any Massachusetts public college or university.
An Act uplifting families and securing the right to strike for certain public employees, which would restore to educators the right to strike, so that in the rare cases when obstinate school committees refuse to bargain, we can have the leverage we need to win fair contracts that benefit our students and communities.
Two bills to improve educator retirement benefits, including legislation that would allow educators who didn't properly enroll in the TARP enhanced retirement option to opt in to the program, and legislation that would ensure greater economic security for retired educators by increasing the COLA base and protect retirees from rising healthcare costs.
Beacon Hill was a major focus this month, but I was also delighted to visit the Silvia Elementary School in Fall River with Fall River Federation of Paraprofessionals leaders Stacey Alves and Kim Luz as part of the AFT's Reading Opens the World Campaign. We read to the 4th graders and distributed 500 books to the students, including copies of Lupe Wong Won't Dance. I'm always willing to make time to help kids discover a love of reading.
Finally, this month saw the kickoff of a new cohort of our AFT Member Organizing Institute, which trains union members to work as part-time member organizers on issues important to the local school community. On January 28, we brought together 10 AFT members from across the state for a full-day training, and I'm excited to see how these passionate members support their local's organizing and member engagement efforts.
The heart and soul of our union is you – the members. There is so much we can do when we do it together, and as we begin the new year, I'm energized by the opportunities ahead of us.
President Beth Kontos: Get Ready for a Big Push on Major Education Bill
An education bill filed on January 20, 2023, has the potential to transform the educational landscape for generations to come, bettering the lives of students and harnessing the knowledge and assets of local communities to improve schools, according to AFT Massachusetts President Beth Kontos and other education leaders.
The bill,
An Act Empowering Students and Schools To Thrive
(or the Thrive Act, for short), would equip local communities with the tools and resources that students and schools need to succeed, and dramatically reduce the harm caused by the high-stakes, punitive use of standardized tests, such as state takeovers and denying students high school diplomas.
Consider using our advocacy tool to email your state representative and state senator urging them to co-sponsor the Thrive Act! https://aftmassachusetts.tiny.us/PasstheThrive
AFT Massachusetts Joins New Higher Ed for All Campaign
With the passage of the Fair Share Amendment, Massachusetts has an opportunity to build a public higher education system that lives up to our values and prepares Massachusetts students to be active, engaged participants in their communities, the workforce, and our society," said AFT Massachusetts President Beth Kontos. "Students today are struggling with the cost of college and a lack of adequate support services, while adjunct educators struggle with low pay and limited benefits. Our public college campuses have insufficient funding to address crumbling buildings, rising student needs, and staffing shortages. We're pleased to support the Higher Ed for All campaign to reverse the budget cuts that have occurred over the past several decades, and begin rebuilding a truly public state college and university system."
"As we move away from the worst of the COVID pandemic, the impacts of over a year away from the classroom are becoming more and more evident," said Grant O'Rielly, President of the UMass Faculty Federation. "The absence of social contacts with their friends and peers, as well as missing frequent and meaningful interactions with teachers in their classes, have left students ill-prepared as they have returned to in-person learning. This is particularly true in colleges and universities where the need for support services in mental health counseling as well as quality academic tutoring (not just "homework help sessions") has increased significantly."
READ MORE.
UMass Faculty Federation Celebrates Educators During Annual Award Ceremony
The UMass Faculty Federation celebrated educators who worked tirelessly to help prepare the minds of tomorrow's leaders. Dr. Hua (Julia) Fang, Professor Meghan Fair and Deidre Healy were all honored in December 2022 during the federation's annual award celebration. AFT Massachusetts wants to highlight these educators and celebrate their accomplishments as well. UMass Faculty Federation President Grant O'Rielly had high praise for the educators and support staff who were honored at the annual event and said that the entirety of those who fill the classrooms and support the students at UMass Dartmouth deserve recognition as well.
"We are immeasurably proud and grateful to these committed and hardworking individuals who have gone above and beyond to ensure that the students who sit in our classrooms emerge with the best education possible," he said. "We are also grateful to those who secure the resources and support that allows these educators to accomplish this mission. The importance of unions is our ability to work together and ensure that we as educators and support staff are taken care of so that we can take care of our students."
READ MORE
.
#AFTVoices Member Spotlight Series
#AFTVoices is proud to present, Cathy Mastronardi, President of the Springfield Federation of Paraprofessionals! This series aims to uplift the voices, members, staff and educators that make up AFT Massachusetts.
They say it takes a village to raise a child, and that saying remains true especially today. While teachers and staff are working for the betterment of students across the Commonwealth, others work behind the scenes playing equally valuable roles in providing students with the resources and attention they need to succeed.
Paraprofessionals provide a critical service to our schools and communities by providing essential assistance in a variety of ways. Certified Nursing Assistants, Licensed Practical Nurses, Certified Occupational Therapy Assistants, Physical Therapy Assistants and Paraeducators, represented by the Springfield Federation of Paraprofessionals (SFoP), are all vital members of our communities that ensure communities across Massachusetts can thrive. We talked with Cathy Mastronardi, President of SFoP about the myriad of ways these critical professionals help students, staff and communities succeed, but are too often overlooked.
Solidarity with the members of the Woburn Teachers Association!
The union educators of the Woburn Teachers Association are acting to secure:
A living wage for education support professionals;
Smaller class sizes to support the educational needs of all students;
Physical education classes twice a week for elementary students, which is comparable to surrounding school districts;
Fair and professional compensation for all workdays; and
Dignity and respect in the workplace.
The families of Woburn have a right to expect the education and learning needs of their children will be addressed in the public schools. The committed educators of the Woburn Teachers Association are fighting for their students by demanding progress at the bargaining table on essential classroom issues.
AFT Massachusetts stands in support of the Woburn educators receiving fair contracts and calls on school administrators to immediately negotiate contracts that are good for students and fair to teachers.
Climate Justice Corner
"All-electric, high-performance HVAC systems are a critical solution for addressing many of the challenges schools face."
This new report from @RMI Carbon Free Buildings and @UndauntedK12 provides essential resources for policymakers at every level to help schools make the rapid transition to all-electric, high-performance HVAC systems. These updates are needed to foster student health and learning. Check it out:
https://bit.ly/3GjMWzw.
Click
here
to join the AFT Massachusetts Climate Caucus and consider the next meeting of the caucus on March 9th at 4:45 pm.
Retirement Planning Workshop for AFT Members
AFT Massachusetts is hosting a retirement planning workshop on February 8 via Zoom and all members are welcome!
The financial professionals of Teacher Retirement Solutions (TRS) have partnered with AFT Massachusetts and specialize in providing independent financial guidance, strategies and solutions to educators, school employees, librarians and their families throughout New England. Join TRS' John Gregorio, a Certified Financial Planner, on February 8, 2023 via Zoom for a comprehensive workshop for prospective retirees. The Massachusetts' public employee retirement formula, Social Security and living in retirement will be among the topics discussed. An automated email with the details of the Zoom meeting will be sent to members that complete the form to the right.
What: Retirement Planning Workshop for AFT Members
Who: Members of AFT Massachusetts
Where: Online via Zoom
When: February 8, 2023 from 6 to 8 pm
2023 Paraprofessionals and School Related Personnel Conference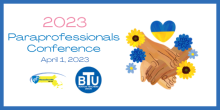 Now, more than ever, paraprofessionals are uniting together and making their voices heard. From winning historic wage increase campaigns, to demanding respect both in the school house and in the community, paraprofessionals and school related personnel (PSRPs) are on the precipice of changing the educational landscape that would improve all our lives. PSRPs are the connectors between educators, parents, students and the community, ensuring we all have what we need to thrive.  
Join AFT Massachusetts and the Boston Teachers Union at the annual conference for Paraprofessionals and School Related Personnel on April 1, 2023. This is where we will find our common ground, strategize the ways we can improve our communities, while demanding respect in the schools and a living wage.
Through the pandemic, budget cuts, and lack of appreciation, PSRPs have consistently shown up for others. At this conference, we are making sure that PSRPs show up for themselves. Join us and make your voice heard!
2023 Awards Dinner and Annual Convention
The 2023 Scholarship Winners and the 2023 Distinguished Service Award Winners will be honored at the AFT Massachusetts Convention Awards Dinner on Friday, April 28, 2023 at the Edward M. Kennedy Institute for the United States Senate located at 210 Morrissey Boulevard in Boston.
We're excited to celebrate the 2023 winners at the Kennedy Institute. Senator Kennedy was a champion for working people who always fought for our public schools, good jobs, full employment, and safe working conditions. Senator Kennedy was also a champion of public education. AFT Massachusetts like Senator Kennedy is proud to champion our students.
Contact your local president about attending the awards dinner and about nominating a colleague for the 2023 Distinguished Service Awards.  Nominations are due by March 1, 2023.
On April 29, AFT Massachusetts convention delegates from across the state will celebrate our victories, discuss the battles we face, and be inspired to act. We'll hear about important initiatives and further develop our collective strength as educators and organizers.
The 2023 AFT Massachusetts Convention will be in-person at the IBEW Local 103 Union Hall located at 256 Freeport Street in Boston. For a local to have representation at the convention (voting delegates), local leaders are to submit the following by March 29, 2023.
Per capita payments through February must be sent, postmarked no later than March 29, 2023 to have representation at the convention.
A list of all elected delegates and alternates, sent no later than March 29, 2023 must be sent to the AFT Massachusetts office by email or registered or certified mail with a check payable to AFT Massachusetts for $25 per delegate / alternate.
A copy of an audit by an independent CPA, a copy of a financial review by an independent CPA or a letter certifying that a review has been conducted by an Internal Review Committee consistent with AFT Guidelines must be sent to the AFT Massachusetts office postmarked no later than March 29, 2023.